Post by Foxy on Jul 13, 2019 12:52:20 GMT -5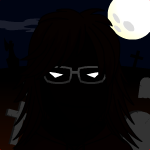 Qwerty surely would have known the sprinkler system would ruin the books, right? And he probably couldn't predict the future and guess what was going to happen to the books, so I wonder why he wasn't worried about the books getting ruined.
'I had to walk through Fiction, where there was a gap, three books wide, blank and obvious like a missing tooth. It was my fault. I had found it necessary to remove three books from the library without checking them out, and now the books were in Hangfire's possession.' (p. 112) Per my previous note. As I said, I don't believe these are ever thought of again in ?1 after Hangfire picks them up, and I wonder if Handler always planned to re-employ them in the manner they will subsequently be employed, or if that was simply a clever way of filling in a plot hole.
Speaking of those three books by the same author, was this an allusion to Harriet the Spy? Or something else? I'm afraid I really don't know too much about fiction.
'Then I thought of my parents.' (p. 114) Questions have been raised about how this anecdote lines up with the chronology of Snicket's recruitment into V.F.D. per the U.A., in which he was either a baby or an infant. But as is noted in the discussion of The Little Snicket Lad, the line "and they never brought him back" would be more accurate if "never" were replaced with "rarely" (U.A. pp. 18-19); and so we may posit that on one of those rare visits home, the Snickets went hiking.
I LOVE this story! Snicket's mother sounds like a fierce and formidable woman.
'The woman had returned three books to the library, three books that fit perfectly into a gap in Fiction.' (p. 122) Nice of Hangfire to have those books returned. Perhaps he's not so bad, or perhaps, as I've suggested, he has a plan to lure Snicket into getting Ellington out of trouble, and ordered their return as a part of that plan. Why this was necessary, as opposed to simply ordering Dander to release her, implies that either Nurse Dander doesn't know Hangfire's true identity, or he simply doesn't want to give away any free hints to Snicket or Ellington.
On page 122, do you think Qwerty was about to say "The world (is quiet here.")?
Kind of random, but since "colonel" is pronounced "kernel," does that mean "Colophon" is pronounced "Kerphon"? "Kernal Kerphon?"