Post by Deleted on Mar 14, 2011 2:21:15 GMT -5
Started drawing with Violet in mind - but as I sketched on, I thought of Esme...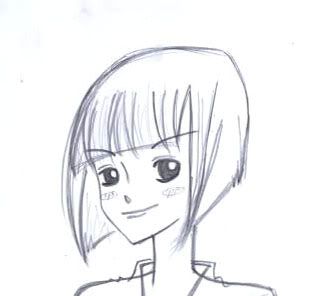 What d'you guys think? Who is this to you?
EDIT
Also, fix'd:
;D
Previously, #10 says
frozen river
. I've fixed it to
frozen waterfall
.
Glad you like it! The things I've learned from ASOUE, in order, are:
SPOILER ALERT!
#1 Try not to lose your parents in a fire (referring to the Baudelaire fire)
#2 Never go to the cinema with a disguised villain (referring to Stephano and that movie - was it Zombie in the Snow?)
#3 Choose an appropriate time to snack on a banana (referring to Aunt Jo's inappropriate timing to eat a banana)
#4 Child labour is generally prohibited for a reason (I dunno what this refers to, though...it just came to my head, lol)
#5 Some people are not musically talented (but they think they are) (referring to Nero's horrible violin skills)
#6 Pinstripe suits are IN, but elevators are out (referring to what's in and what's out, of course!)
#7 Fountains sometimes have secrets (referring to the place Isadora and Duncan were hidden)
#8 Cranioectomy can be avoided if you know how to stall for time (referring to Klaus and Sunny trying to rescue Violet)
#9 Hungry lions are hungry (referring to the hungry lions, lol)
#10 You might fall in love while hiking up a frozen waterfall (referring to a certain triplet and a certain inventor)
#11 Friends can betray you (referring to that betraying, no-good, bespectacled b*tch, Fiona [sorry, I'm a hardcore Kladora fan, XD])
#12 Pregnant women can drive dangerously (referring to Kit's awesome driving skills)
#13 Coconuts can make you drunk (referring to that drink they had in that island)
What does the Japanese text beside her mean?
Oh, the text spells "Ku ra u su", which is just Klaus' name. ;D