Post by Dante on Jun 18, 2012 14:27:08 GMT -5
Chapter Lengths in ASOUE
- submitted by Sherry Ann
Here is the data table with the chapter counts themselves, assigned a color based on their numerical value. The table only accounts for pages with text, so blank pages and full-page illustrations are not included. Also, Chapter Fourteen was excluded so as not to skew the data.
The following scatterplot illustrates these findings as they appear in each book. Note that, with the exception of a few outliers, there is a definite trend in intervals.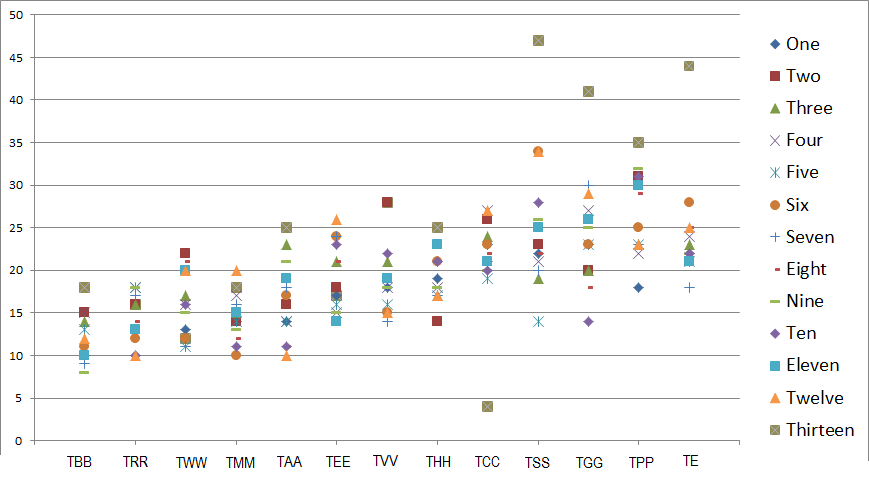 How, then, might we account for this rise in the span of chapters? We know the novels as a whole grow substantially as the series progresses. This could be because Handler's writing develops and matures as his career advances, or because the story itself becomes more involved as more secrets are introduced and mysteries unfolded. In either case, chapter divisions split themselves more or less equally to balance the extra material; that is, no few chapters are significantly longer to compensate for shorter segments, the length of the novel determining the size of chapters – or vice versa.
Take a look at the patterns for the lengths of the first and last chapters for each novel, in blue and black respectively. (Linear regression models uploaded
here
.)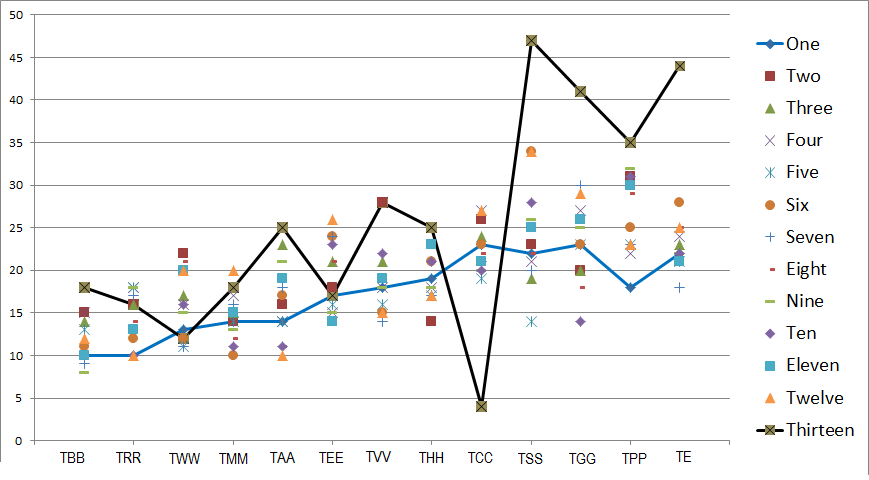 Here we witness a steady rise in first chapter durations, and an inconsistent but definite increase for thirteenth chapters. Observe, too, the plotted points for the final chapters in the last four books. It appears conclusions take longer in these final few critical pages, especially as the series draws to a close.
The following list enumerates the range of chapter lengths (the shortest chapter subtracted from the largest within each book) followed by the average chapter length of each novel.
TBB: 10 - 12
TRR: 8 - 14
TWW: 11 - 16
TMM: 10 - 15
TAA: 15 - 16
TEE: 12 - 19
TVV: 14 - 19
THH: 11 - 19
TCC: 23 - 21
TSS: 33 - 26
TGG: 27 - 26
TPP: 17 - 27
TE: 26 - 24
The largest discrepancy is found in TSS, with a 33 page difference between chapters five and thirteen. The largest chapter average is found in TPP, also the longest novel. The overall series has a range of 40 pages a chapter, with an average of 19 pages altogether.
What, then, can we gather concerning chapter lengths in ASOUE? Most prominently, perhaps, that the lengths increase as the series continues. Note also, however, that chapter lengths grow more uncertain as the series continues, with higher ranges toward the end of the series than at the beginning. This implies a certain amount of improvising on Handler's part – chapters end when he feels the chapter should end, and as events in the series climb toward the climax, these endings can occur quickly or be prolonged.
~~~