Post by B. on Jun 19, 2012 9:56:20 GMT -5
Editor: Brunch
Columnists: Kensicle, Lemona Snicket, Dante, Sherry-Ann, F.D, BSam, Sophie Baudelaire, Linda Rhaldeen and Coconut Cream Cake
Banners credit of: Kensicle, Brunch, TerryCraig, BSam, Linda Rhaldeen and Cybermystery
-----------------------------------
An Insider's
INSIDE GUIDE FOR OUTSIDERS
to
All the Wrong Questions
By Lemony Snicket
by Dante
To readers past, present, and future, I bid you welcome. 667 Dark Avenue is a site centred around two things: Lemony Snicket, and our community. To some people, one of those things is more important than the other – to other people, one of those things is also more important than the other, but the opposite way around. For this reason, I have written the following guide to introduce Lemony Snicket's new series,
All the Wrong Questions
, to new fans, old friends, and those who don't follow news of Mr. Snicket so closely.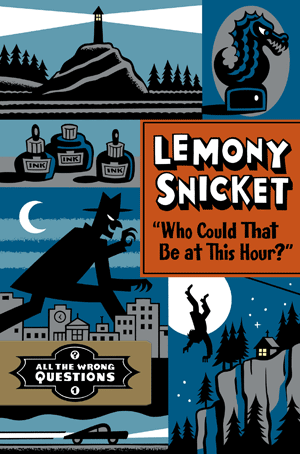 Lemony Snicket's new series was announced on February 8th of this year. Entitled
All the Wrong Questions
, the series is Mr. Snicket's autobiographical account of his thirteen-year-old self as an apprentice in a secret organisation. Based in a fading town, his unfortunate experiences lead him to ask questions which shouldn't be on his mind – the wrong questions, of which there will be four in total. The first question, "Who could that be at this hour?", will be the subject of the first book,
Who Could That Be At This Hour?
It's unclear at present whether Snicket's apprenticeship and the fading town are the subjects of just the first book or of all four books – opinions vary, and there's no close description of exactly what the first book will be about. But a few clues have been picked up from the publishers' promotional efforts.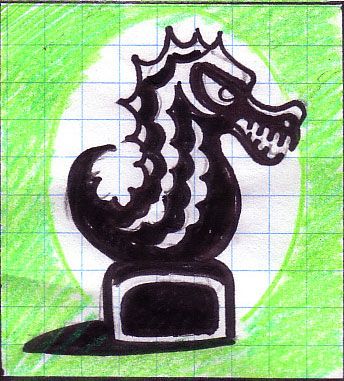 The series is published by Little, Brown & Co. in the United States, and by familiar ASoUE publishers HarperCollins in Canada and Egmont in the United Kingdom. Little, Brown's parent company, the Hachette Book Group, has been running a promotional campaign via Snicketmail, for which you can sign up at
LSATWQ.com
. At the time of writing, eleven e-mails have been delivered since the end of February, containing cryptic teasers about the plot of the new book, with each e-mail having a mysterious subject line and a mysterious image, often with a mysterious caption – all of which are presumed, but not confirmed, to be part of the first book itself. Seven of the eleven e-mail subject lines are questions which lead us towards the plot of the book – questions like "Why would anyone want to steal this statue?", "Who is Ellington Feint?", and "What?" – others are answers, such as "It's for thee." From these e-mails we have gathered that a stolen statue, missing ink, an aquatic voyage, and a drop from a great height may well be involved with the plot.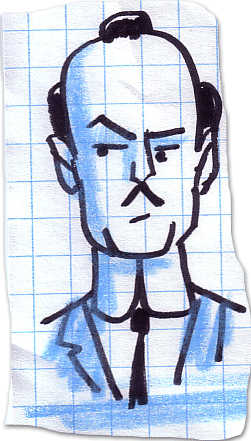 The seventh e-mail, "How can we stop him?", contained a picture of this man, who due to the subject line is presumed to be the villain of the book, and who due to his appearance is presumed to be a school principal or of some similar vocation. Beware, however, for in Snicket's works, and particularly in
All The Wrong Questions
, nothing is as it seems. The man's name is unknown, although it is possible that it is "Ellington Feint," a mysterious name alluded to in a previous e-mail. Also possible is that Ellington Feint is somebody else entirely. That is another question that we, the investigators, have.
The photograph above depicts the illustrator for the series, the man responsible for the art above, a man who is reportedly named Gregory Gallant but goes by the name of "Seth" for unknown reasons. Please note that the above was not staged to promote
All the Wrong Questions
; this is how he dresses normally. He may not be ASoUE illustrator Brett Helquist, but his fashion choices mark him out as an obvious fit for a work by Mr. Snicket.
Since the new series takes place chronologically earlier than
A Series of Unfortunate Events
, many fans are questioning what familiar characters will return to our pages in
All the Wrong Questions
– the only barrier is not whether they are dead yet, but whether they have been born yet. At the time the new series takes place, Lemony Snicket would already have met Beatrice; she and Count Olaf, along with Snicket's elder siblings Jacques and Kit, are the most obvious potential returnees, or perhaps preturnees, for the new books. However, it has yet to be confirmed whether any familiar characters besides Snicket himself appear – the "fading town," Stain'd By The Sea, is "far from anyone he knew or trusted." Nonetheless, it seems likely that some familiar friends and enemies will appear – if not in the first book, there will always be the second, third, and fourth.
Who Could That Be At This Hour?
will be released on October 23rd; the following volumes are expected yearly, with The Second Question arriving in 2013, The Third Question in 2014, and The Fourth Question in 2015, all probably around the fourth quarter of the year. The first chapter, however, has been available for some time, and you can read it
here
– that will be the surest test of whether you should read this book, or whether you should avoid it, as Snicket has warned us all along.
-----------------------------------------------------
By Sherry Ann
*Hyperlinks were added post-interview by the interviewer for the reader's benefit. They do not strictly reflect the subject matter of the conversation at the time, nor were they directly linked to by either interviewer or interviewee during the interview.
Sherry Ann: Congratulations on taking the initiative to organize the anniversary activities. When did the idea strike you, and what sort of vision did you have in mind to begin with?
Linda Rhaldeen: I got the idea when a high school friend started talking about our upcoming high school 5th year reunion (which is in August), and thought it would be fun to do something similar for 667.
SA: Were any of your initial ideas parallels of that?
LR: The "where are they now" thing is.
SA: How do you feel about the way things have been running so far?
LR: I'm really happy that so many people are helping out so much and came up with so many ideas that I would never have thought of. It really feels like a big collaborative effort.
SA: You actually wrote a 667 fic taking place June 2012. How does it feel looking back on that now?
LR: Kind of like watching "Back to the Future 2"; you know, laughing at the prediction of the future. Actually, I haven't read that fic in years, I'm just going by memory. I'll have to reread it sometime.
SA: It's very good. I found it just a few minutes before this interview. Can you describe how the forum has evolved since you joined - in spirit as well as design?
LR: Well, the design is actually very similar; there is a different banner and different new post icons, but it's stayed very uniform. As for the spirit, it's a lot less sarcastic than it used to be. The newer members are wonderful and nice, but I feel like if a member like
J
or
Robert
had joined today they would not have fit in.
SA: What about the members? Have you noticed a change in intelligence, attitude, emotion?
LR: The members also seem to have grown up with the forum. It used to be young teenagers, but now the majority are early 20s.
SA: Does 667 benefit from the change, do you think?
LR: I think so. I had some great times back when 667 was young, and sometimes wish it could go back to the way it was before, but then I have to admit that we've grown up and so has the forum.
SA: There have been a few misunderstandings [example] concerning sarcasm this year, it seems. Can you offer any advice for the younger members witnessing these incidents?
LR: I would say, especially as the anniversary approaches and old members return, to not take everything the old members say literally. Back in the day, people would banter and joke a lot more than they do now, and to the untrained eye it could even look quite mean, but it was all sort of a big inside joke.
SA: An inside joke involving the entire forum, or a select group? Or is that just the sort of mood that used to exist in the early days?
LR: Involving, well not all the forum, but all the well-known, more active members. Back then there were a lot of people who were known as "really cool members", who would post with bad grammar, and looking back as it now were probably just young kids who didn't know the rules of the internet, but there was very much an "us vs. them" mentality.
SA: Did that lead to any sort of conflict?
LR: All the time! That was something
The 667er
thrived on, was reporting on the latest drama. In a certain light, it was almost like a soap opera.
SA: As a past contributor to The 667er, do you feel the publication ever dramatized or glorified the conflicts?
LR: Sometimes. We tried to be impartial, but there were times that it definitely had a bias.
SA: As for the anniversary itself, the "Active Users in the Past 24 Hours" list has certainly grown since the mass e-mail invitation went out. How many older members do you expect to return for the anniversary?
LR: I'm not sure; I hope there are a lot, though.
SA: Hermedy suggested a "13 Most Influential 667ers of all time" for The 667er. Do you have any predictions for who might be on that list?
LR: Um...Dante and BSam? It's hard to say, because the most well-known and the ones that have shaped 667 the most are not always the same people.
SA: "Influential" covers the notorious, too, so that should be interesting.
LR: True.
SA: I know you have to leave soon, so would you like to conclude describing some of your sharpest or favorite memories from 667 past?
LR: Sure. I remember in February 2006 we had a
ball
, and there was a gag account named
Accordian Man
that everyone was swooning over, and then there was a new guy named Peter that went as Betsy's date and
Alice "murdered" him
by getting ahold of his password and deleting the account. We didn't know it was her at first so there was a murder mystery, and then a
trial
, and it was just a great example of the type of drama that went on. Another thing I remember fondly is all the
667 stories
we wrote.
SA: I'd love to follow up on that stuff sometime later. For now, thanks for being here! I hope you continue your stay on 667 for years to come, and good luck with the anniversary endeavors.
LR: Thank you!
-----
Sherry Ann: As 667's tenth anniversary approaches, how does it feel knowing you've served as admin for a decade?
Hermedy: First I'd like to note that I haven't served as admin for a decade. There were long periods of absence, notably 2005-2007. In terms of sentiment, I feel proud, thankful, impressed. But most of all I feel surprised. Surprised that 667 has overcome obstacles and time to not only last this long, but to stay strong and consistent as a fan forum. We've never really been in danger of dying out.
Sherry Ann: How would you describe the forum's changes from then to now?
Hermedy: Changes from 2002-2012? Where to begin. Well I guess the most obvious thing that changed is the profile of 667. In my mind, there's a split between 2002-2006 and 2007-now. 667 became really recognized (NYT article, 21 Questions) as the Series was ending. While the Series was still running we were still jostling for position with sites like TQW, UE for position. We're now the last site standing.
Sherry Ann: And concerning forum spirit and member attitudes?
Hermedy: My memory might be incorrect but I remember the first half of 667's history as being more dramatic. There were open rivalries, romances, controversies, arguments... The newer generations of 667ers have been less aggressive.
Sherry Ann: More introverted, I agree.
Hermedy: Right.
Sherry Ann: What first inspired you to create a forum for ASOUE?
Hermedy: In 2002, I was the Head Moderator of UE.net. I made 667 and maintained it in case anything ever happened to UE.net. And guess what happened... Let's just say we'll never know the source of the fire. There have been other challenges of course. Notably feuds, like the Plastics, Intellecteers, Karma debate. The 667er used to be a major challenge for me as well. None of them really threatened the existence of the forum like the end of the Series though... aside from ADR maybe.
Sherry Ann: You say the 667er was a challenge for you. How so?
Hermedy: It was very critical of my admin style!
Sherry Ann: Hopefully this edition will prove more flattering, then.
Hermedy: I don't mind actually. Sometimes I was happy to be the villain because it brought 667er closer together. I made decisions that I knew were controversial and I rarely explained myself. I still do that because without mystery and drama, 667 would have died a long time ago. 667 as we know it I mean... I'm sure Dante would keep the fandom going, but it wouldn't be the same. There has always been a very fine balance between the social and "academic" sides of 667. I have tried to moderate between the two of them because I think they are both necessary for the continued existence of 667. Without members like Dante pushing us to investigate the work of Lemony Snicket, we are just a group of friends chatting online. Without entertainers like Willis, 667 is just a book report that took 10 years to write.
Sherry Ann: Could you give an example of controversial decisions you made, either from the past on in the present?
Hermedy: Selecting a new administrator using an arbitrary puzzle game, instating karma even though it would hurt feelings, playing favorites in picking staff members … those are the three that come to mind, although I'm sure there are more.
Sherry Ann: The forum has undergone a few minor changes in the past week in anticipation of the new series. Are there further developments we can expect as 667 approaches a new era?
Hermedy: I don't forsee any major changes, except maybe board re-shuffling, re-titling, things like that. It's also probable that we'll start branding ourselves more as a Lemony Snicket forum, rather than an ASOUE forum.
Sherry Ann: Is it possible the forum name will be changed from "667 Dark Avenue"?
Hermedy: Yes, I want to return to "Lemony Snicket Informer Forum" … JOKES. No, we'll always be 667. It was my favorite location in the Series.
Sherry Ann: If you had to pick a single favorite memorable moment on 667, what would it be?
Hermedy: Hmmmm … Probably when Gigi won the VFD contest. It was just... a seminal moment of justice, beauty and light. (Joking). It's hard to pick but I would say it was our fifth anniversary (2007) when Sixteen helped arrange contact with Daniel Handler for the first time. That was a gamechanging moment for 667. Sixteen was the middle man.
Pandora: You totally took the credit for Sixteen's move!
Hermedy: No. Sixteen got credit. But nobody cared because he was a nobody back then.
Sherry Ann: How does 667 contact Handler today? Has the process changed?
Hermedy: I'm not sure if Dante has a more direct method now, but we used to contact him through someone who did some work with DH for HarperCollins.
Sherry Ann: So Dante took over as the point of contact for DH - do you know when approximately that took place?
Hermedy: I don't know when Dante's contact started but it's possible he was in contact even before the 5th anniversary. Anyway, his contact certainly runs deeper, if not longer. I don't ask. I like the mystery.
Sherry Ann: You suggested the idea for a 13 Most Influential 667ers of All Time article. Do you have any predictions for who might be on that list, other than the ones you might have nominated yourself?
Hermedy: My top three picks are Swans, Dante and BSam. There's some room for argument on all other members, but if those three aren't on the list I'm going to delete the forum.
Sherry Ann: If the article were reversed, who do you think were the most notorious members of all time?
Hermedy: Top three? ADR... masterviolet456... and J. Euromegamouth, swans and countessviolet would be in the top 13, but not top 3. Kate and Ann would also be in there.
Sherry Ann: What advice would you offer to members returning to the forum years later for the anniversary?
Hermedy: Read All the Wrong Questions, come back in October.
Sherry Ann: Were you involved in any of the activities taking place in the "What?" thread, or the countdown and banners from a few days before?
Hermedy: What? … Oh yeah, the countdown. I had Cybermystery put that in. The countdown was to the creation of the Moderator Games threads. I password protected it, but no one got the password. I made it public a day later.
Pandora: What was the password?

Hermedy: Pubert. Nobody guessed it.

Sherry Ann: On the Moderator Games, Pandora: and Willis' thread resulted in some controversy: Would "creativity points" have made a difference?

Hermedy: Creativity points are as important as character (how you compete) and result (whether or not you won). You get them for contributing to the creation of the challenge. The three are equally important. The Moderator Games are about free will. It's about embracing competition. I picked two people for each section. Both qualified. Both would be good. So I feel comfortable letting the Moderator Games take their course.

Sherry Ann: How would you account for the rise of 667 fics in Chaotic Creativity, and how did you react to your portrayal in them?

Hermedy: I think they were inspired by Willis, the best comedy 667fic writer. Also they are making tribute to 667 for its anniversary. I like being the villain/bear in fics. Wouldn't have it any other way. I like to think of myself as a cross between Lord Voldemort and Michael Scott.

Pandora: Who's your favorite 667er?

Hermedy: My favorite 667er... current is Sophie Baudelaire. All time is... Ernist.

------------------------------


By Brunch

Throughout 667 history, members have come and gone, some making a more lasting impression than others. Who could forget the contest to become a new admin, or the 667 Big Brother? Who has truly left their mark upon this forum? Who are the thirteen most influential 667ers of all time?

13.ADR
All Due Respect, or ADR for short, returned to 667 just as a contest with the secret aim of finding a new administrator was taking place. She successfully guessed the password that won the competition, causing her to be appointed admin and leading 667 into nearly three months of controversy. However, she did make some changes to 667 which are still held in place today, such as moving Disturbing Discussion underneath Menacing Miscellaneous. She also created a rule that moderators were required to post at least twenty-five times a week, which is not still held in place. During her reign, ADR changed the symbolism of this particular smiley forever:

On New Year's Day 2007, ADR's reign at 667 ended when Hermedy returned. Although she was only admin briefly, this period in time changed how other members viewed adminship of 667 and how affairs were managed.

12.Emma Squalor
Emma Squalor currently oversees Forsaken Fanwork, and although busy in her personal life, consistently replies to every piece of art and fanfiction - always maintaining a pleasant and encouraging demeanor. She is also very well known for her undying love of Jerome and Esme Squalor, contributing a fair amount of fanfiction based around them and others. In 2008 she and another member, May, completed an epic roleplay called A Tale of Three Friends, and she is currently authoring V.F.D. Training Days, an elaborate multi-chapter fanfic detailing Jerome Squalor's life during training for V.F.D.

11.Charlotte
Charlotte, better known as "Char" for short, was a popular and well-liked member at 667. She joined fairly early on and contributed a lot to Menacing Miscellaneous, helping to make it the largest, most posted-in section of the forum that it is today. Through posting so much she motivated many conversations and inspired many other posters, which are part of what has built up 667's booming community and brought it to its tenth anniversary.

10.Pandora
Pandora is one of the oldest members to still post at 667, joining in August 2003. A moderator with long ties to Objectionable Others, she was a victim of the Moderator Games and lost her post despite an otherwise victorious duel. Pandora was well known for her unique sense of humour, and was also one of the main contenders in the Vernacularly Fastened Door competition.

9.Antenora
Antenora joined 667 in June 2004. She was a longtime staff member, moderating Foreboding Feedback and Disturbing Discussion as well as co-moderating Burdensome Books. Antenora contributed much valuable insight, both into Lemony Snicket theorising and debates taking place in Disturbing Discussion. She also made valuable contributions to Ravaged Resources. Antenora helped 667 become the Lemony Snicket resource it is today, and although she resigned as a moderator in 2008 her contributions still live on, particularly in the Burdensome Books category.

8.Dupin
Dupin was a former moderator of Forsaken Fanwork, and he also contributed much ASoUE fanfiction, inspiring others to do so. This helped make 667 the ultimate collection of amazing fanfics it is today.He also hosted and created Weird Ships Week, which encouraged people to write about unusual pairings in ASoUE. Dupin was known for being an incredibly hard worker: he started the 667 Big brother and the 667 Factor which were 667 competitions based on Big Brother and The X Factor. Dupin also contributed to the original 667er, writing the "WTF" column, which was popular although it ran for only a short time. He also wrote rants for a few weeks.

7.Gigi
Gigi was a teacher, and an avid Lemony Snicket fan. She moderated Malignant Merchandise with the knowledge gained from owning perhaps the largest collection of Snicket merchandise. She was quick to inform others of contests, rare Snicket items and book releases, often making interesting countdowns to pass waiting time. Her contributions to the Lemony Snicket community though her role of a teacher gave others a unique perspective on the series. During 2006, Gigi, along with Jemima, helped precipitate ADR's downfall and Hermedy's return; Gigi was temporarily demoted, but was then made Head Moderator by Hermedy as a title of respect. She was also a fierce competitor in 667's Vernacularly Fastened Door contest, eventually winning, and also came third in 667's third series of Big Brother.

6.Willis
Willis joined 667 in 2006, and is best known for his plethora of 667 fiction. He was one of the three authors of the immensely popular "667 Dark Apocalypse" which prophesises the end of the world on this forum's tenth anniversary, and is currently writing "The Dark Games", a story which sees 667ers play in a bloody competition to become the new admin. He is also known for "Watt Really Happened", an ASoUE fanfic about the adventures of Volt Baudelaire. Through his contributions to fiction, he has inspired others to write, continuing the popularity of Chaotic Creativity. Willis was formerly a moderator of Menacing Miscellaneous and has recently become the new moderator of Chaotic Creativity and Our Wicked World. He also ran the successful 667 Darkies Awards for several years.

5.Akbar
Akbar was a popular member at 667, and is best known for founding and running the original 667er. Akbar was known for his funny and informative editorials stating his opinions about current affairs at 667. He also contributed a range of feature articles, helping to bring members up to date on recent events. He was extremely dedicated to the publication and put in a lot of hard effort managing it. As well as The 667er, he also popularised the saying "Yzay!" In 2005, Akbar personally met three other 667ers, M., J., and Derik. He also took part in The 667 Factor and 667 Big Brother events, as well as authoring a 667 murder story, contributing to the long list of 667 fiction.

4.swans
Although swans has long since departed from 667, she helped organise and lay down the foundations for the forum we know today. Joining in 2003, in the early years of 667 swans provided vital assistance to Hermedy and was somewhat of a mentor. She was well-known in the Lemony Snicket sections but would help organise events and projects elsewhere, such as some of 667's earliest anniversaries. Although she has no left the forum, her legacy lives on in the early forum she assisted in creating.

3.Dante
Dante is best known for his outstanding contributions to Burdensome Books, which he currently moderates, as well as the Ravaged Resources archives. Dante is usually first to inform 667 of Lemony Snicket news, and some would call him the world leader of the fandom. His posts encourage other people to expand upon their ideas and join intelligent ASoUE discussion. He also provides helpful comments on other's ASoUE fanfiction, as well as contributing his own, such asRealtors in the Cave. In addition, he was an early populariser of 667 fanfiction, including Divided, which was exceptionally popular in its time. Dante has overseen a number of successful projects, notably 667's annual birthday gifts to Daniel Handler.

2.BSam
BSam is the longest consistently posting member at 667, and very well known by all; he is 667's true top poster, with over 26,000 posts spread over two accounts. He has won awards for being the funniest member numerous times throughout the forum's history. In addition, he has contributed a lot of 667 fiction, as well as articles in the original 667er. BSam was also a moderator of Disturbing Discussion before resigning to compete in the Moderator Games for a new role. BSam is known on the board for his humour, but also his occasional thoughtful insights, sometimes made whilst drunk.

1.Hermedy
If you don't know why Hermedy's name is on this list, you are either a newbie or suffering from amnesia. Hermedy created 667, without which we would not know each other or be celebrating the tenth anniversary today. During the early days it was crucial to put in as much dedication as possible, and his efforts created the popular and noteworthy community we are a part of today. Apart from creating the site, Hermedy is also known for his mysterious schemes, the most famous being the competition to choose a new admin for 667 in 2006, along with the recent Moderator Games. He is known for his phrase "*admin power surge*", with which he defeated ADR and others. He is also an occasional writer, and was one of the three authors of "667 Dark Apocalypse." Although not a frequent poster, he still presides over the forum, as was shown recently during Countess Violet's unmasking. Without Hermedy we would undoubtedly not be here celebrating 667 Dark Avenue's tenth anniversary, or 667 Dark Avenue's anything.

---------------------


By Bsam

All the Wrong Recipes

1

"Who Could That Be at This Pikelets?"


There was a town, and there was a girl, and there was a kitchen. I was living in the town, and I was hired to cook in the kitchen. One of the many foodstuff I was to prepare was
pikelets, a word which here means 'a type of pancake found in
Australia and New Zealand'.

I began by collecting two cups of self-raising flour, one quarter of a teaspoon of salt, one third of a cup of caster sugar, one egg, one cup of milk, and one tablespoon of butter. This wasn't too much trouble for me as I had previously secreted said
ingredients about the kitchen.

While sifting the flour and the salt into a bowl, and adding the sugar, I thought back to when I first entered the kitchen, marvelling at the thought that the flour was self-raising, yet unable to raise others out of the doldrums of their unfortunate lives. I added the egg and stirred.

The milk was next, white and pure, like the life I could never live. Slowly that went into the bowl, just enough to make a thick batter, and like a small child who deserved no better, I beat it until the mixture had become smooth.

'Out of the frying pan and into the fire' is a phrase which here means getting out of one bad situation only to find yourself in another. I hoped there would be no fire for my pikelets, but, as I melted some butter in the frying pan, I apologised for putting it in the first bad situation in the first place, along with heaped tablespoons of the mixture.

As bubbles appeared on the surface of each pikelet, I carefully turned them, being sure to avoid flipping them out of the frying pan, and once both sides had browned, they were done.




I considered serving them with whipped cream and jam, but today was no day for sweet things, so I spread a little butter on them while still warm, and once the butter had melted slightly I ate the lot, weeping profusely the whole time. I made about 20.





-----------------------



By Lemona Snicket

On April 29th, at around 12am, the lovely Emma Squalor opened 2012's Darkies awards, the most noted award ceremony this side of the burnt mansion. It consists of thirteen categories, to commend 667ers for their best traits and talents, and culminates in a large fancy ceremony, and your reporter was right there. The only 667er reporter covering from inside the awards.

After everyone had settled in, and there had been a few numerically-focused comments made, Best Pairing was announced, presented by Quiglet Queen Shelly. A win was made by BSam and Willis. Next up, Songbird stepped up to the podium to present Best Profile Decoration, this year's new award, to the always creative and fashionable Nominatissima, later Lady Grantham.

Next up, F.D. announced, with a wonderful speech, that Emma Squalor had deservingly won 2012's Most Compassionateagain. Then, as we really settled in, tk presented Funniest Member to BSam (no surprises there). Sherry Ann was the next to claim the microphone, making a creative speech to lead up to the announcement of Best New Member, which went to Sophie Baudelaire.

The 667ers were presented with a speech announcing Most Notorious – a delicate topic, all things considered. The task was ably taken on by Dante, who brought down the house with his speech, giving the award to the inimitable Countess Violet.

Next up, Dante himself was presented with the Most Valued Poster award, announced with Sophie Baudelaire's speech. The then-nominatissima presented Sixteen with Best Story for A New Regime. Hermes announced Best Thread's winner as the Odd ASOUE Real-Life Coincidence Thread made by Dante.

Sixteen, winner of Best Story, presented the wonderful F.D. with the Most Active award. Pandora stood up next to make a creative speech, announcing Tiago Squalor, renowned author YASoUE and AQSoUE, had won 2012's Best Writer.

Following that, an unexpected event occurred, when Willis bounded up to the podium amid surprised gasps and cries of oi! what are you doing?, shoving aside Tiago, who had been intending to present Best Artist, and began a speech. "Beards are a huge part of 667's history," he began, and all heads snapped toward Emma, questioning with their eyes if this was legitimate. Emma shrugged blankly, and patted Tiago comfortingly on his sore shoulder. Willis went on, elaborately presenting an unheard-of Best Beard award… to himself. Next, before anyone could stop him, he had procured a slide from nowhere and inserted it into the projector. A large image of a gentleman with crossed arms and a beard appeared on the projection screen. Dante wondered if anyone had anything for headaches with them. Willis stepped down, and was congratulated by all, even if they were still a little bit uncertain as to what had just happened, and BSam even produced a Best Beard banner. Dante recovered enough to congratulate Mr Beard with everyone else.


After an awkward pause, Tiago, still shaken, gently encouraged by Emma, stepped up to the podium fearfully. He managed to make his Best Artist speech, growing more confident as he went on, and presented it to the new Gloomy Grady. She was congratulated heartily – the newcomer who was rocking the house. Lemona Snicket finished off the ceremony with a long speech, based on material from bios of Mr Snicket, announcing Dante as the very deserving winner of Most Unfortunate.

Everyone finished off with large congratulations to Emma, the wonderful organiser of 2012's Darkie Awards.

-------------------
Sophie's Unadvice Column


Hello, 667ers, and welcome to Sophie's un-advice column, where I find the best solutions to all of your problemos. This week I've got three problemos to resolve...

Problemo #1:

Dear Sophie,

I've been super busy with tests and homework, how do I manage to have time to have fun?

~A 667er who wishes to remain anonymous


My dear anon,

Fun? You want to have fun? Why would you want to have this so-called 'fun' when you could be stressing yourself out in school? Alright, if you really want to have fun, I suppose you will have to do the following:

1. Do as much homework as possible.
2. Study whenever possible.
3. Never sleep. Ever.
4. Eat only bran muffins until you graduate.
5. Make sure you avoid all other people.
6. Disable all internet sources you have.

If you take my advice to heart, your life when school is over will be the most fun you've ever had!

Love,

Sophie

P.S. As for the 'time' bit, I suggest you hire a wizard to slow time down for you when the days of work are going by too quickly. They're not too expensive, just about ten million dollars per hour.

Problemo #2:

Dear Sophie,

I have a very serious problemo. My book review for class is due in tomorrow, but my dog ate it! If I tell the teacher that, nobody will believe me. What do you think I should do, and do you think it would have been a good idea not to wrap my paper around a slab of meat and leave it in his bowl?

Yours urgently,

Danny Dogear

Dear Danny,

You clearly have a very dim-witted dog if he thinks that by leaving your homework in his bowl you were inviting him to eat it. Any dog with a well-functioning brain would know that you wanted him to edit the paper for you. I suggest you take your dog to a veterinarian to have a very close examination and possible brain surgery.

As for the assignment, the best solution is to run outside now, get another dog, and have him do it for you. Surely your teacher will give you the highest mark possible.

Best of luck,

Sophie

Problemo #3:

Dearest Sophie,

I was having the time of my life at the prom when my clumsy boyfriend spilt punch all over my best dress! Should I ditch that ham-fisted clod, or merely stick him with the dry-cleaning bill?

Yours,

Sally Shilly

Dear Sally,

I see your problemo. Your boyfriend is not knowledgeable enough to know that coffee is the drink that stains a dress most, and not punch. However, you've got to appreciate his effort. Here is what you should do:

1. Get a new boyfriend (one who is experienced with the art of dress-staining).
2. Don't go to proms. They tend to be lacking in coffee.
3. Find a job at a coffee shop, where you'll have plenty of opportunity to spill cappuccinos all over yourself. You're sure to look stunning! (I've heard that the colour brown is very in at the moment.)

Regards,

Sophie

P.S. Why dry-clean when you could just soak the dress in a vat of Italian roast coffee?
------------------



By Linda Rhaldeen

Do you know:

Who November 2005's Member of the Month was?

What 667 Dark Avenue was originally named?

When the 667,000th post was made?

Where the first 667 meetup took place?

Why The 667er was started?

How the Intellecteers came to be?


Find the answer to these questions and more when the 667 Timeline is revealed tomorrow!
--------------



By F.D


Patti Smith- Banga:





Since her 1988 album, "Dream of Life", Patti Smith has gone on a downward spiral. Album after album, critics and fans got more and more displeased. Words such as "pretentious" started to appear. Who would have thought that a woman who once shouted that "Jesus Christ was a n****r too" would ever be called pretentious?

But then, on 2004, with "Trampin'", we all caught a glimpse of the glorious Patti, striped down. This idea only evolved with "Banga". 8 years without any new material seem worth the wait.

Before it even was released, "Banga" was getting a lot of buzz. A song inspired on Amy Winehouse? A birthday gift to Johnny Depp? Inspirations from "The Hunger Games"? What was going on with Patti Smith?

The album opens with "Amerigo", a sweet, partly spoken-word ballad. "We were going to see the word", Patti whispers, only to introduce a drum to carry the song. She starts to sing the chorus with the sweetest voice ever seen to come out from her: "Where are you going and are you going anywhere?/ Where are you going, send me a letter if you go at all". This was certainly a shift for her, who had only been using her powerful, raising vocals on albums like "Gung Ho".

The surprises continue to roll in with the great, drum-driven "Fuji-San", a tribute to the Japanese people, which finds the Godmother of Punk raising her voice to say "We're climbing into the greatness, into your light". The song is followed with the bluesy tribute to Amy Winehouse, "This Is The Girl". "This is the girl who was having a ball", Patti cries.

"Banga" truly reaches its peak with the title-track, a collaboration with Johnny Depp, about a dog. Yes a dog, who waited 2000 years in the doors of heaven for his master to speak with Jesus (according to Patti). She has said that the song means nothing, but that we are all together. Well it sure is an explosive track for a song that means nothing. The instruments pulse like her voice with every scream of "Banga!"

As soon she gets to the peak of the album, Patti starts to break it down. Songs such as the stunning "Tarkovsky" melt it all down. The penultimate track of Banga is Constantine's Dream, which is ten-minutes long. Something that became rare with her latest albums.

The last song is a cover of Neil Young's "After The Gold Rush". Patti has stated that for her, it represented that the "new home" mentioned in the lyrics is actually Mother Nature, which had grown back to its full glory.

This whole album really is a return to form. Is it as good as "Horses", or "Easter"? No. Is it going to blow your mind? Probably not. Does it shout with energy? Not really. But it is her best album in years. And it shows that maybe the Godmother of Punk can also grow back to her full glory.

8/10

-------------------


Cartoon by The Suppressed Nib
------------------------



By Coconut Cream Cake

The Cheesmaker's Society.

The Cheesmaker's Society is a secret organisation you should know about. The actual main purpose for it is unknown, though it involves passing secret messages and trying to force people to eat blue cheese and haggis pie .

I managed to get a interview with Mr Deerdery, a member of the Cheesmaker's Society.
CCC: Hello, Mr Deeddery.
MD: Hello
CCC: I do believe that you are a member of the Cheesmaker's Society, right?
MD: Umm...
CCC: So what do they do exactly?
MD: Well, they make cheese.
CCC: Is it true that they make cheese and hide messages in the cheese?
MD: How d-
CCC: And is it true that they are associates of VFD?
MD: No-but my cousin is in VFD. Promise that you won't tell anyone.
CCC: Of course I won't. But I must say, the cheese you guys make stinks a lot.
MD: How dare you!
CCC: I much prefer that brand called Esmé's Delight
MD: Get out now! NOW! Out of my sight.
( I was forced to flee from his house and run away from an angry maniac.

----------------



Right. Ranting. I don't think (actually, I am quite sure) that I'll be able to do as good a Rant as PJ and others did back in the old days. Nay. There's something about those old Rants that just, well, reek of awesomeness.

Anyways...ranting.
There are a plethora of things which are annoying. Certain girls at school, certain boys at home, certain people neither at school nor at home.
Like that bushney the mayor in my local council. That guy is claiming that he is moving the neighbourhood "into the 21st century" but all he's doing is a building a whole bunch of ugly, grossly oversized buildings right at the tallest point of the neighbourhood, so everyone in a 5 kilometre radius can see them and be impressed by the foul architecture. There are also many smaller units that resemble chaotic piles of cubes that have sprung up everywhere. Just about every corner block and every wide block has been taken up by them. There's been an entire street that used to be full of wide blocks that have now been made into units. There's only three houses left standing. However garish, I don't mind units so much as the large buildings though. Not everyone in a 5 kilometre radius can see them.


Another thing to rant about is homework. Teachers probably have their reasons (well, some of them) for the amount of homework they give, but sometimes it's just ridiculous. Two or a maximum of three assessments per subject, sure, but please, space them out. I have a French/History teacher who is horrible at planning. She forgets about what she's got to give us, then WHAM! Three projects all in a row, all within the last few weeks of the term. Si'l vous plaît, madame. On doit dormir. The upside of this is that teachers have to correct as much work as they give; however, that can be worked around by teachers which give you work that they'll "check once in a while to make sure you're doing it all". My Maths teacher does this. I loathe her, and so does the rest of the class and for that matter, all the classes who have her.
No offense to any 667ers who happen to be teachers. (I suspect a few of you are.)

That's enough personal ranting. Back in the good ol' days (when the original 667er was still running) the rants were mostly about stuff on the forum, e.g. gag accounts, n00bs, and annoying members in general. Nowadays everyone's lovely, and there's no-one to complain about. (Gosh, that sentence sounded ridiculously cheesy, but it's true.) I guess I can whine about Sorsha and Draven being a little, er, sycophantic, but Countess Violet was a good member. And by the way, where has the Best Artist thread scuttled off to?
I guess the most irritating thing at 667 is that sometimes it's inactive, but I think that that's mostly because of my time zone. I once tried staying up late on 667, until around lunchtime in Britain, and then the posts came like rain. (Or fangirls at a pop concert.) With Who Could That Be At This Hour? coming out, we'll hopefully see some more activity in the forum.

CCC has requested that I rant about the scant amount of vocabulary that internet browsers possess. Yeah, I find the red lines annoying, especially since some programs only have American English and not British English. For instance, right now the American English dictionary is suggesting that I change Maths (two paragraphs up) to Math. A while ago I was doing a project on colour in MS Publisher, and the computer kept on suggesting I change it to "color". It was highly irksome.

That about sums up the Rant. If you'll excuse me, I've got to go and work on my Geography project. Gah. Projects are Satan.
-------