Post by Dante on Feb 22, 2014 16:43:01 GMT -5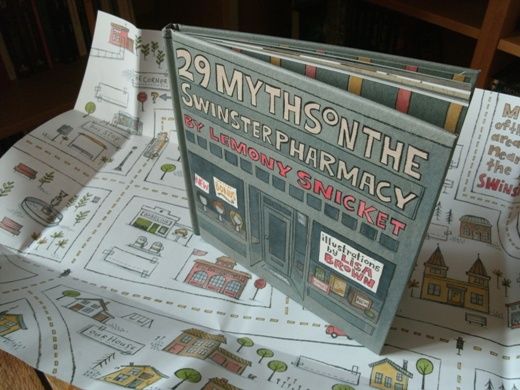 667 Reviews:
29 Myths on the Swinster Pharmacy
Making a formula out of a formality, I bring you the first in a newly-rebranded series of 667 Reviews - and what better way to start than with Lemony Snicket's latest picture book,
29 Myths on the Swinster Pharmacy
, illustrated throughout by Lisa Brown, and published by McSweeney's McMullens.
Like the eponymous Swinster Pharmacy itself, the book is at first glance unassuming, though it soon reveals hidden depths of complexity and interest. Physically, it doesn't have the dominating profile of Snicket and Jon Klassen's recent
The Dark
, and is instead rather short and distinctively square, and thin enough to be quite unobtrusive in a shelf full of books, as the pharmacy sits on a street full of shops. But the quirky, irregular lettering and shapes on the cover and the depth of colour given to this gloomy little shop display the beginning of a rich, surprising experience, the first sign of which is contained in the dustjacket itself – which, as photographed above, can be removed and unfolded to more than twice the size to create a double-sided poster, one side a map of the town and its environs as described in the book, the other a full view of the pharmacy building itself. Book, building – both have hidden depths, and this experience is a large part of what the book is about.
Snicket's evocative text is concise and revealing, retelling in short bursts the various stories, claims, anecdotes, eavesdropped allusions, and recollections about the pharmacy, from the perspective of two children who have become fascinated about the old place, and their perspective looks past the mundanity of what's surely easy to dismiss as a tacky and uninteresting store and find in everything about it a mystery, something to be suspicious about. Though each of their twenty-nine myths is just a couple of lines long, they're suggestive, evocative. They swing wildly from the commonplace to the surprisingly poetic. Snicket strings together the dull and ordinary experiences of an everyday walk down the street into an experience that does lull you into a growing sense of unease – one that compels you to admit, despite all its improbability, to the suspicions of the unnamed protagonists who dwell on the pharmacy at all hours, follow its employees, measure it by night. Is there something suspicious about the Swinster Pharmacy? Is there a mystery to be solved? I don't know, but perhaps the mystery is itself a mystery; it is not the pharmacy's secret that is up for debate, but whether it has one.
Snicket understands a child's fascination with what an adult is wise or foolish enough to ignore.
A Series of Unfortunate Events
had a major theme of adults failing to credit children as intelligent individuals who are worth listening to, and
29 Myths
is in that sense in a similar vein – but it's Snicket's
All the Wrong Questions
with which it has a stronger affiliation. The Swinster Pharmacy is cut from the same cloth as Snicket's Stain'd-by-the-Sea – a lonely and depressing town, grey and sad, abandoned by all but its children. Snicket's preoccupation with such settings, more haunted than populated, has to have been a common inspiration, and it's almost tempting to suggest that
29 Myths
should be part of
All the Wrong Questions
itself, with its gloom and fading lights, or more pertinently, its series of arsons and prowling black cats. I don't think
29 Myths
quite fits the series as a narrative, but thematically they're twinned, the mystery of ordinary life and the mystery of its absence, as only a child's curiosity rather than an adult's resignation can reveal.
There's an argument to be made that Lisa Brown is the real star of the book, however. Brown has illustrated for Snicket before in
The Latke Who Couldn't Stop Screaming
(perhaps the pair were introduced by Brown's husband, Daniel Handler, who serves as Mr. Snicket's representative), but she excels in bringing to life the half-life of the Swinster Pharmacy and the town it sits within. Her illustrations dominate each page and tower over the text, much though the text explains and links them; frequently the subtle greys and browns of brick walls and evening light fill the whole page, the drab architecture of the pharmacy astonishingly compelling in her renderings, inviting you in not for a visit but for a look, a lurk, a wonder. Her protagonists are the major splashes of colour and life on each page, their warmth contrasting against the bleakness, the concealing darkness of the pharmacy, but there are hints of something brighter everywhere, in the wrapper of a chocolate bar or a nice car by moonlight, the cover of a jokebook or a twentieth-century crime novel. Perhaps what really enriches the grey pharmacy is her depiction of it, irregular, unstable at its edges, strikingly individual in its anonymity and far more expressive than the other faces in the crowd. Snicket's words are often underplayed, written minimalistically and tucked away in a corner in small font, but Brown seems to have limitless ability to draw from it – as does anyone. This is a book about the power of imagination.
We've all passed by without a second glance the odd small and unobtrusive store in the street, but Snicket and Brown encourage us to look at them again from another perspective – to find something wonderful and mysterious in what's ordinary, to think about what makes even the most normal of places tick in its own unique way. Likewise,
29 Myths on the Swinster Pharmacy
may be a short book, but it's worth stopping to take a look, and to wonder – and to keep on wondering, long after you've moved on and it has passed out of sight.