Post by Dante on Mar 31, 2014 15:40:01 GMT -5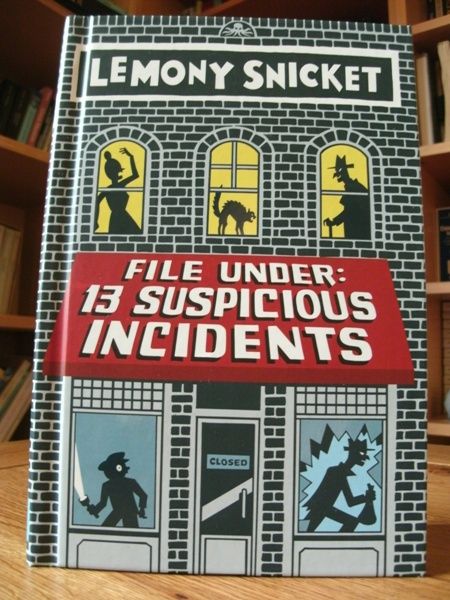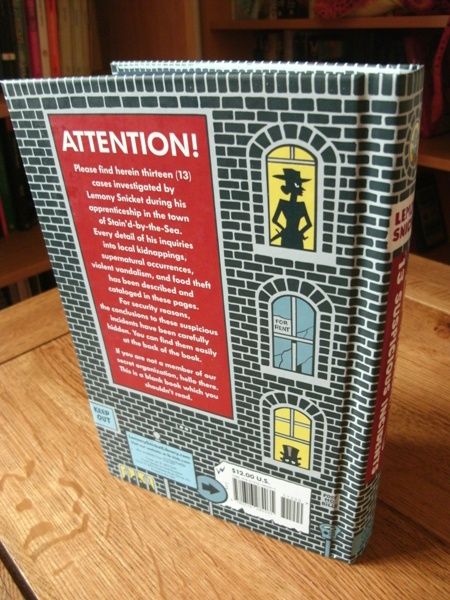 667 Reviews:
File Under:
13 Suspicious Incidents
Over the course of his career in the fading town of Stain'd-by-the-Sea, as recorded in the ongoing
All the Wrong Questions
series, Lemony Snicket has investigated dangerous cases of theft and kidnapping, with arson and worse on the way. But what about the cases that aren't so enormous and so glamourous? Is there nobody to solve the crime of a stolen pet or a gang of vandals, or even those mysteries that might not be a criminal matter, like a traveller's lost postcard or a ghost haunting an aged widow?
File Under: 13 Suspicious Incidents
is the arena in which these cases unfold – to remind us that, whether your problems are big or small, Lemony Snicket's the one to go to for advice, or in our case, for a good book. A supplementary volume to
All the Wrong Questions
, taking place between the second and upcoming third novels in the series,
File Under
is about what Snicket gets up to when he's not tackling major crimes – and what the varied and often odd remaining citizens of Stain'd get up to in their own lives, quietly struggling to survive in a town that's going under.
As the title implies, the book is split into thirteen parts – each a suspicious incident which is brought to Snicket's attention as he continues his research on his big case, or tries to relax in-between times. The citizens of Stain'd have many problems, and cause just as many, and each of these problems is a mystery that it's up to Snicket to solve. It's not just his mystery to solve, though – it's yours as well. Like a work of classic detective fiction,
File Under
is also a challenge to the reader, giving them all the clues and then pausing to crack the case themselves. The solutions to the cases in question are separated out and filed away at the very back of the book, and while each incident generally ends with Snicket pointing the finger, the reader is invited to take careful note of every tiny detail and piece together the logic which led Snicket to find his culprit, before turning to the final pages to confirm (or debunk) their answer. The mysteries are always fair, though rarely obvious, with plenty of clues to guide you to the right answer – and a foolproof anti-cheating system for anyone who tries to skip to the end and read all the solutions first.
These aren't just mystery stories, though. There are two points to the book, and while one of those is to reward the mystery-loving reader, the other is to reward the Snicket-loving reader. These stories are as much about Stain'd-by-the-Sea, the tragically collapsing town, its friends and foes and bystanders, and of course Snicket himself, variously earnest and sardonic, cheerful and grumpy, all-knowing and questioning. The recurring characters of
All the Wrong Questions
put in many an appearance to accompany Snicket in his investigations, welcome or otherwise, and seeing and learning a little bit more about them is as much a pleasure as it is to meet all kinds of new faces from around Stain'd, whether friendly, hostile, baffled or wily. It's a great reminder, in the lull between numbered volumes, that
All the Wrong Questions
really has two main characters – Lemony Snicket and Stain'd-by-the-Sea, and it's the interaction between them that creates one of the most compelling duos in children's fiction in years.
Another reason why these aren't just mystery stories, though, is that they're also very funny. Snicket the author has always been noted as much for his dry humour as his gothic sensibilities, and he is in fine form in the suspicious incidents of
File Under: 13 Suspicious Incidents
. Part of the appeal of Snicket has always been the quietly hilarious absurdism of his stories and characters, and while the narrator's stiff upper lip never wobbles and the stories never draw attention to their own comedy, this is riotous stuff, whether he's crafting anti-sledding aphorisms, or unfortunate definitions for insomniacs, or novel ways of serving cereal. Among his many other achievements, you'd be wrong not to file Lemony Snicket under "comic novelist," and
File Under
proves it yet again.
File Under
is tremendously rewarding not just for its mysteries and its humour, though. Snicket and his friends spent the previous books in the series swapping reading recommendations, and it would be a very well-read person indeed who recognised all the literary and cultural references in
File Under
– not least the references to Snicket's own work. You can be a broad reader without recognising references to a book about a clever kid in Utah, or a book about a woman who falls asleep and kills a horse – but
File Under
goes out of its way to reward the devoted reader of Lemony Snicket, with a huge number of references spanning fifteen years of his authorship, some merely punning on motifs or figures from the likes of
A Series of Unfortunate Events
, but others seem to rewrite canon itself, and even Snicket's standalone stories gain sudden significance. It's one of many signs that Snicket writes for readers, which is as good a reason as any to keep reading. And yet it's part of Snicket's brilliance that
File Under
makes a great standalone novel in itself, perfectly possible to enjoy without having read any of its
All the Wrong Questions
counterparts. A new reader is, too, a reader, and Lemony Snicket is for those readers, too; enough context is given to support each incident on its own, with enough hints given to draw them towards Snicket's wider oeuvre.
All of which is to risk committing a crime in this very review in overlooking Seth, the trademark illustrator of
All the Wrong Questions
whose intricate, moody illustrations play a huge role in defining the atmosphere of the series. The cover art of
File Under: 13 Suspicious Incidents
alone is a tribute to his talents, the run-down and treacherously dangerous old building of the cover a microcosm both of Stain'd-by-the-Sea and
File Under
themselves (and a counterpart to Lisa Brown's take on a similar Snicket invention in their recent double-act,
29 Myths on the Swinster Pharmacy
). While Seth's illustrations this time around aren't colourised, their monochrome tones immediately rendering this the
noir
iest of the series, his pen hasn't slackened, with each chapter matched with a lavish full-page illustration of its characters and props in situ, in addition to iconic images crowning the head of each incident. Whether it's a mechanic or a miner or a figure in fog, a diner or a clearing in the woods or one of many in the lonely streets, Seth's stark distinctions between light and shade and the way he revels in the detail of a cluttered world match Snicket's texts perfectly, and the only regret is that one eventually comes to the last, with no more to come until the next book. On a similar note, while we are unable to review the audiobook edition, with the backing of a full thirteen different narrators – Terry Gross, Jon Scieszka, Sarah Vowell, Libba Bray, Ira Glass, Sophie Blackall, Jon Klassen, Chris Kluwe, Holly Black, Sook-Yin Lee, Rachel Maddow, Stephin Merritt and Wesley Stace – it's sure to be an experience equally diverse and amazing as the book itself.
File Under: 13 Suspicious Incidents
is a brilliant addition to the Snicket canon, the supplementary form giving Snicket full room to manoeuvre and experiment, from the faux-formality of the opening pages to the chaotic swirl of secrets that fills its pages to the beautiful and baffling conclusion's very last word. We are reminded that Snicket himself is a mystery, but one that all of us are invited to solve as we walk with him down the murky streets of a city that desperately needs attention. Walk with him, and you won't fail to be rewarded.
File Under: 13 Suspicious Incidents
is released in North America on April 1st. It can only be hoped that the rest of the world will not have long to wait.