Post by Dante on May 2, 2015 15:04:25 GMT -5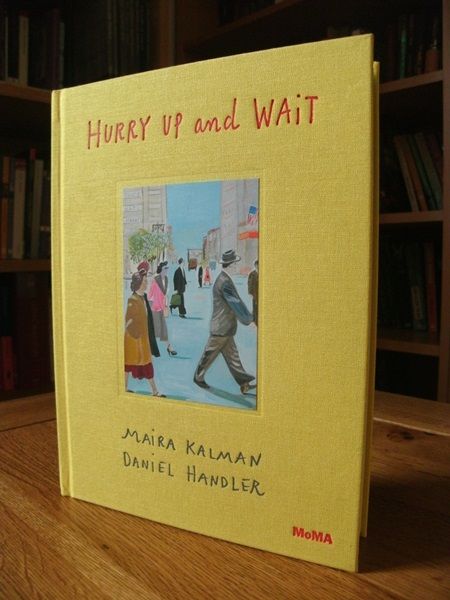 667 Reviews:
Hurry Up and Wait
A collaboration between Daniel Handler, Maira Kalman, and the Museum of Modern Art.
If you don't know what
Girls Standing on Lawns
is, you should probably click on the highlighted words in this sentence before reading any further. After all, this review can wait. Or can it? Is that up to you, or not?
Hurry Up and Wait
is the second of Daniel Handler and Maira Kalman's collaborations with the Museum of Modern Art, and takes a more open approach to challenging its reader with such questions, in a second instalment that feels, dare one say it, more timely than its predecessor.
The form of this "artist's book" is the same as the first; vintage photography, hallmarked and dated as much by its near-universal monochrome shades as anything else, invisibly selected and arranged into a sequence that says what Handler and Kalman have to say, whilst they say it more visibly, Handler in clipped yet poetic asides, Kalman in strikingly coloured paintings that bring the monochrome into bloom. At only around sixty pages, it's a short book, and with even fewer words in it than that number implies, and yet this is a book which has a lot to say, more than
Girls Standing on Lawns
and more than when its photographs were taken.
MoMA's Department of Photography curator Sarah Hermanson Meister points out, in an afterword, that in putting things together the way this book does, it implies a connection that the artists did not envision, but another kind of connection is created when you put this book together with the time it was written in. Why are you really hurrying, and can you stop? What is the difference between stopping and waiting? Even if you know that you don't want to, can you stop hurrying or stop stopping? And do these questions even matter enough not to hurry by? This is a book just long enough not to be hurried through, just short enough for you to make what you want of it. For Handler, the beauty is in the reflection, whether the work of a moment or an hour; for Kalman, the beauty is in the picture of human motion, as much alive when still in a picture and maybe even more so than when it existed for a split-second between one movement and another. Whether you prefer to spend your days in a hurry or would rather stop and wait, you might find something that speaks to you in this book, if you choose to give it the time.