Post by Dante on Nov 9, 2016 7:28:19 GMT -5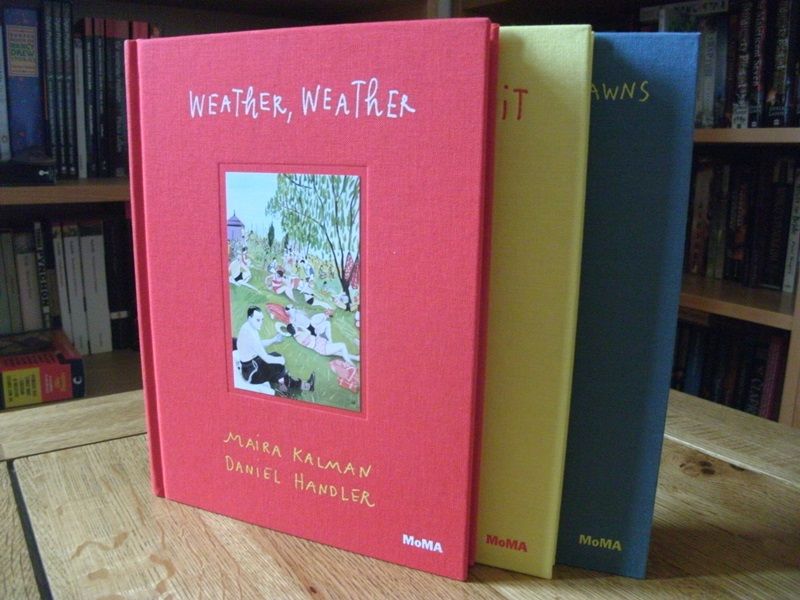 667 Reviews:
Weather, Weather
A collaboration between Daniel Handler, Maira Kalman, and the Museum of Modern Art.
Following mid-2014's
Girls Standing on Lawns
and mid-2015's
Hurry Up and Wait
, here in late 2016 is
Weather, Weather
, the third instalment in Daniel Handler and Maira Kalman's collaboration with the Museum of Modern Art – and if you're reading this review, I hope you know by now (but I'll explain anyway) that this is a project in which Handler writes a series of musings in response to samples from MoMA's archival photography collection, from which Kalman repaints examples in full colour. Handler's style is minimalistic; Kalman's, expansive; the many original photographers, largely from an age without colour, oblique and mysterious in their isolation from history. This third volume's subject has changed a little in the works, its cover reillustrated and its title replaced from
What the Weather Was Like
, and perhaps that's why it's a little later than its predecessors – but that's not important right now, because we thought about hurrying and waiting in the previous volume, although the photographs in this volume are often of people hurrying up or waiting, or even on lawns.
What Daniel Handler is thinking about in this volume, and Maira Kalman expressing through selection of colour and scene, is how people respond to the weather. Put so bluntly as that, it's a question which might seem banal, but as the photographs in this book show, the weather often isn't – a reaction charted through photographs of people responding to the weather, and photographs which, in their focus on the weather only, are that response. There are stormy days, hot days, cold days, days which don't seem to be anything, the weather notable in its absence of presence, and ordinary people notable the same way, trying to soak up the weather or doing their best to ignore it and failing, all humanity revealed in those distracted, stolen moments. It's perhaps in that spirit that this volume includes a few more colour photographs than the previous two, the colour itself drawn out by the kind of weather its subjects are experiencing – a contrast to monochrome pictures thrown into shadow by stormclouds or bleached out by brightest sunlight, somehow always the right colour without a blush of it. Regardless, Kalman's portraits find colour in sunbathers and deserted winter paths alike, breaking the gloom with a pink umbrella beneath a snowfall, blossom in the rain.
That there's a world of responses to weather is an unusually personal revelation for Handler, as he explains in the back of the book, who having come from a land where the weather was unchanging and unremarkable fell in love with a woman from a land where the reverse was true. Likewise, your own circumstances might bias you against a book on weather, from never seeing it yourself to perhaps seeing all too much of it, day in, day out. But what you're asked to see here isn't the weather, it's other people seeing the weather, while you see them, or see through their eyes, Handler and Kalman seeing alongside you and showing you what they think of it. It doesn't have to be a grand revelation – just a moment's reflection, brief as a raindrop or a sunbeam, refusing to go unnoticed.