Post by Dante on May 8, 2017 16:29:23 GMT -5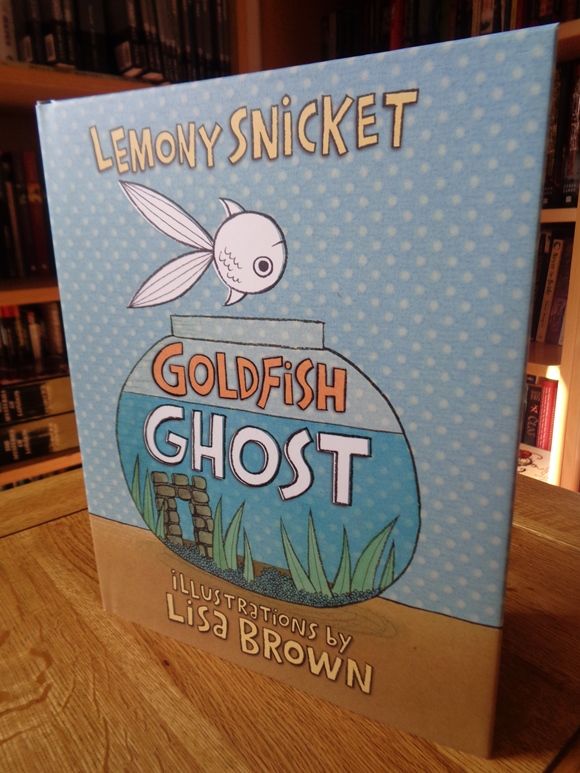 667 Reviews:
Goldfish Ghost
written by Lemony Snicket and illustrated by Lisa Brown
Goldfish Ghost is the latest in a long line of unlikely anthropomorphic protagonists in Lemony Snicket's picture books, including
The Lump of Coal
and
The Latke Who Couldn't Stop Screaming
, but unlike the eponymous Lump and Latke, Goldfish Ghost is not simply inanimate but entirely incorporeal, which makes interacting with the world around it difficult. Indeed, the story of
Goldfish Ghost
is built around this difficulty, with the silent and solitary phantom floating through a bright, busy, and disorientating world searching for what company will suit its unusual existence. As a function of the story's theme, the choice of character is inspired; Goldfish Ghost's literal detachment from the world serves the story's message, while its simplistic thought patterns are easy for child readers to engage with. Not everyone, perhaps, will appreciate the ending, but many will find it to be a happy one.
Lisa Brown's art, meanwhile, is at its best here, almost eclipsing the often understated text, sparse lines small on the page. The pages are rich with detail without being crowded, with some subtle points almost forming tiny subplots in the story, and are often framed in almost two-dimensional scenes which allow the details to breathe within a readable and accessible framework. This two-dimensional flattening of many features on the page is a point of style which adds a toy-like quality to many of the figures, though probably the best exaggerations are a group of seagulls which appear prominently on an early page, wide-beaked and noisy and brimming with personality. But it is the depiction of Goldfish Ghost (and other ghosts) which really shines; simply inverting the character renders it quite unmistakeable, but leaving the figure entirely colourless and sketching its outline over a blank space in the page, almost like a cutaway panel to a blank page behind, instantly sets the spectral character apart from the rest of the world as effectively as if physically removed from the illustrations entirely.
Goldfish Ghost
is a very short book, coming in at around thirty pages and not many more sentences, but the large format puts the illustrations centre stage and gives the text a leisurely pace. In this respect, it is most reminiscent of Snicket's previous picture book
The Dark
, which (as his biography points out) won the Charlotte Zolotow Award, and his earlier
13 Words
, which (as his biography also points out) did not. Younger readers who enjoyed or might conceivably enjoy either of those two books will feel at home with
Goldfish Ghost
, an unexpectedly gentle story with a day-to-night progression just right for soothing a child to sleep.