Post by Dante on Mar 8, 2019 4:22:53 GMT -5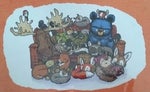 Except now I just further read into the chapter, and Jacques is writing the letter to Jerome after the accident at the Lucky Smells Lumbermill. But maybe there was an accident before the accident with Dr. Orwell? Neither article mentions Dr. Orwell by name. There are other clues in the letter to allude to this theory not working, but not necessarily. Jacques found a couplet in what I am presuming is the Village of Fowl Devotees, but the Quagmires obviously can't be in V.F.D. before Esme and Jerome get married because Esme and Jerome were already married when the Quagmires were in the elevator at 667 Dark Avenue.
The clues you mention certainly come from especially ambiguous parts of the U.A., and the truth is we just don't know. My take has always been that Esmé and Jerome's marriage is clearly indicated as being to secure control of the passageway to the Baudelaire mansion; but even if this took place before the beginning of ASoUE, it might simply have been to eliminate the passage as an escape route, more than to employ it as an arsonist route. The accident at Lucky Smells Lumbermill mentioned is very mysterious and doesn't appear to line up with Dr. Orwell's death, which was indeed an accident and not directly attributable to Olaf and his associates. This, I think, is an instance of the clues quite deliberately pointing in a lot of directions, and you are given liberty to put them together in whatever order you want.