Post by Dante on Feb 22, 2014 16:42:31 GMT -5
All The Wrong Questions: 667 Advance Reviews?1 Advance Review
Yesterday there was a knock on my door. "Who could that be at this hour?" I asked. As it happens, I was right. Hachette had generously and without my knowledge delivered an advance copy of Lemony Snicket's
"Who Could That Be at This Hour?"
to my door, and subsequently to me. My gratitude is as intense as my excitement, which is very. "I will of course be 100% discreet," I said, "apart from reporting how amazing it is." This is my report.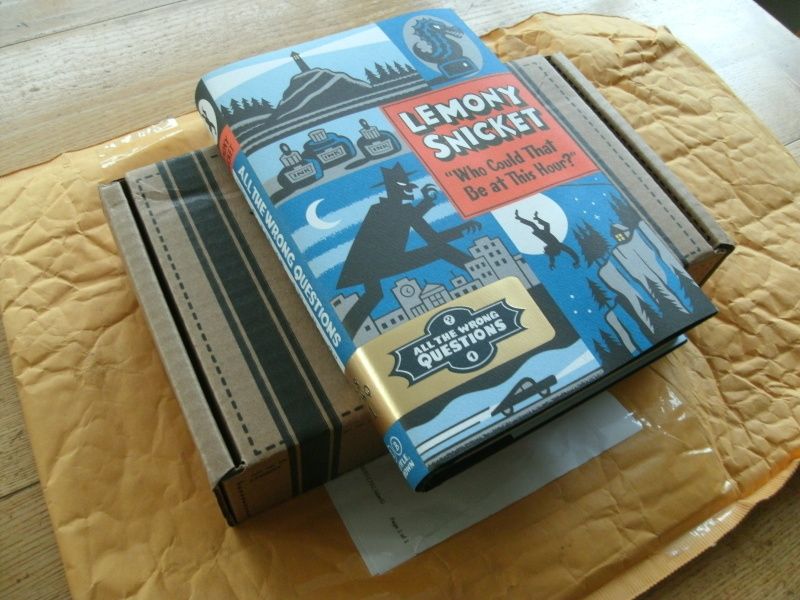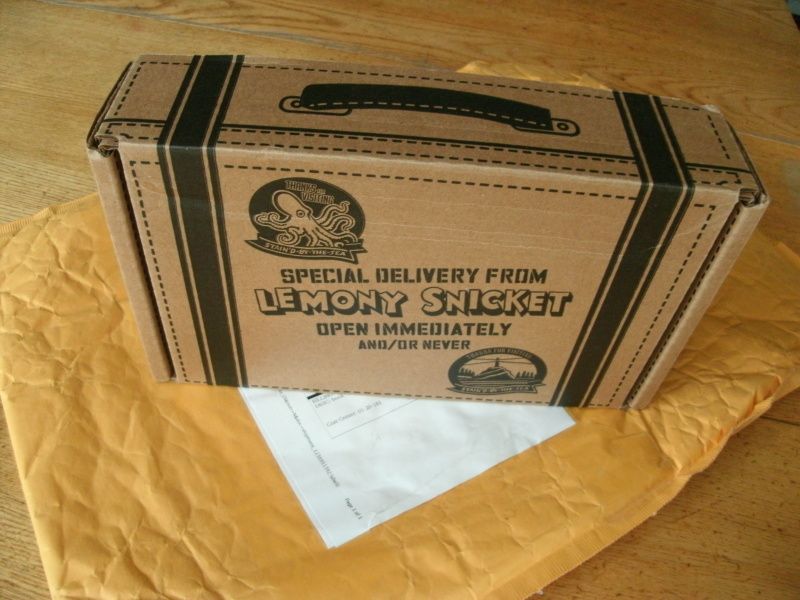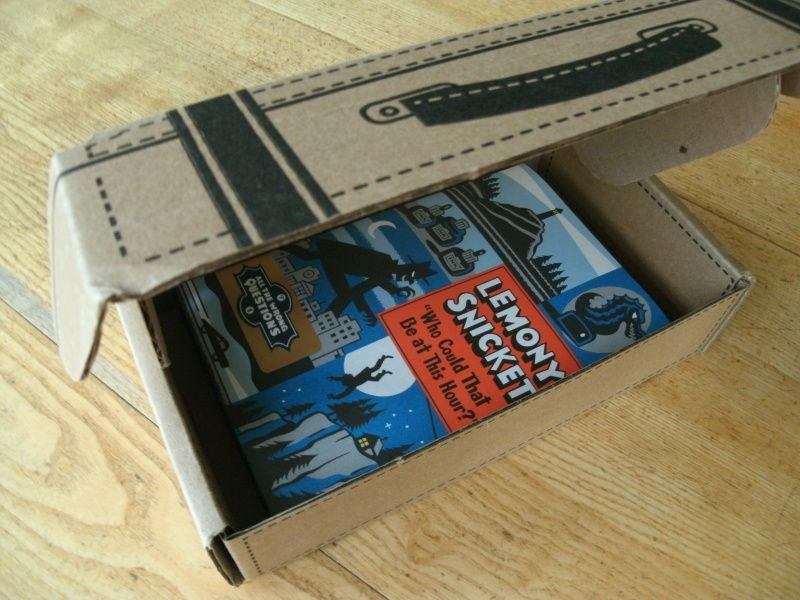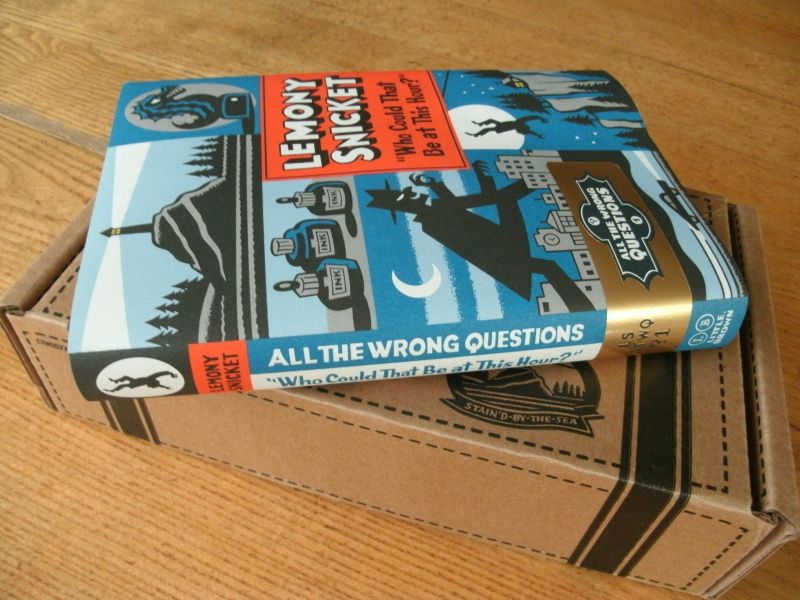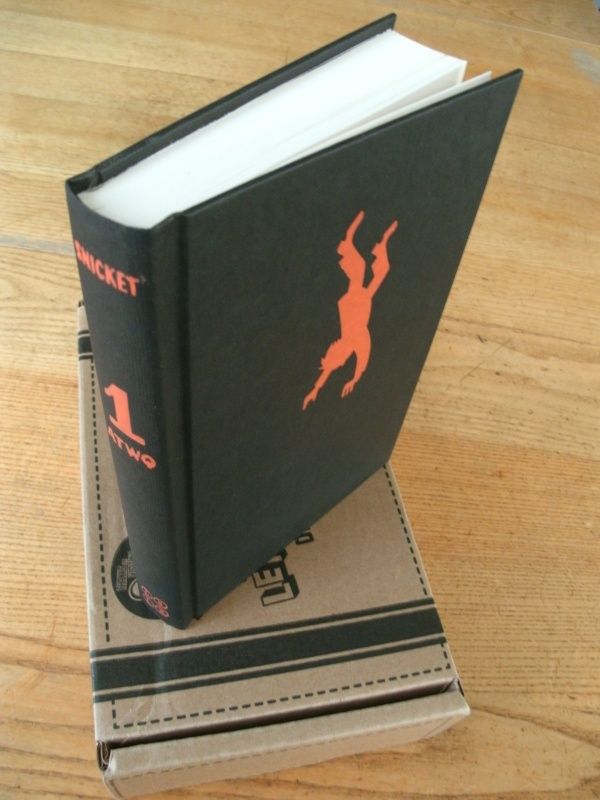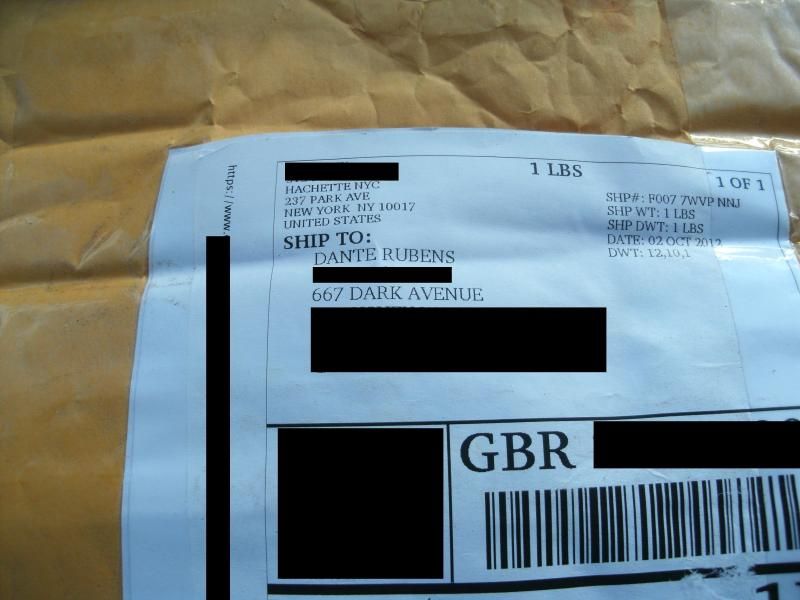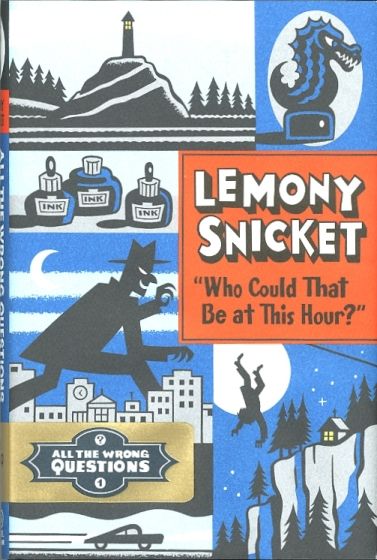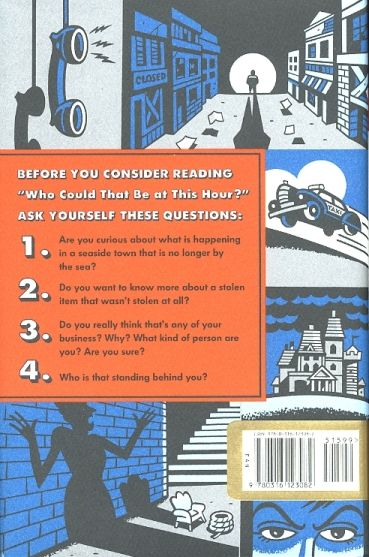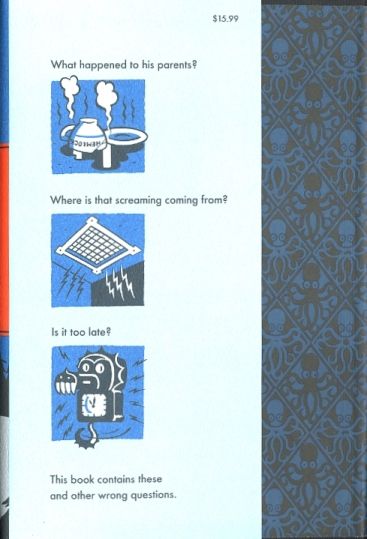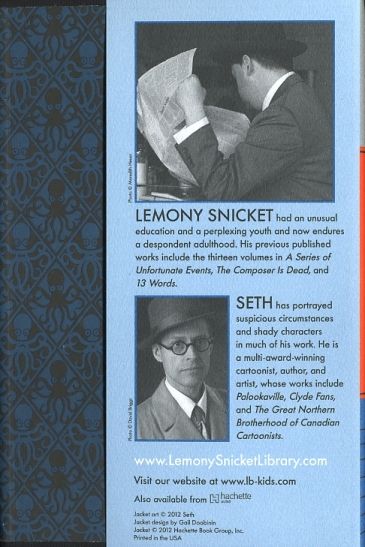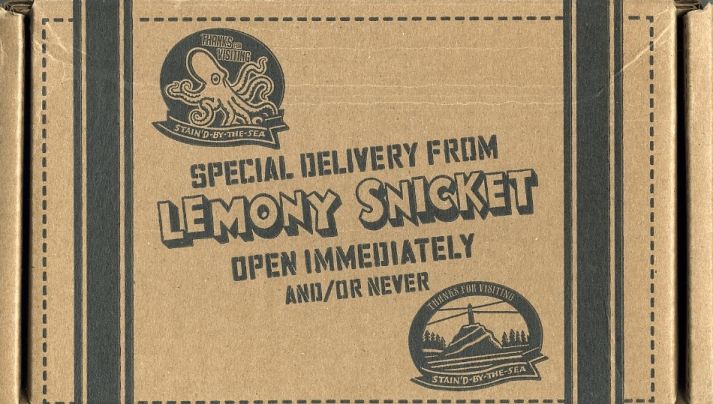 Thirteen years after he first wrote, and six years after The End, we have a book that's before the beginning, starring a younger Snicket with a more mature writing style, asking questions without answers about a crime that hasn't been committed. If you're a fan who's been asking "Is Lemony Snicket back?", or if you're not a fan yet but have been asking "Are this guy's books as funny as his name?", then you were asking the wrong question - no, Lemony Snicket's asking the questions here, and the best thing you can do is enjoy reading about him as he does so.

A Lemony Snicket book is three things, in no particular order and all at the same time: Funny. Clever. Mysterious. This is more true than it's ever been. In fact, "Who Could That Be at This Hour?" is more everything than Snicket's ever been. He is funnier. The wit of this novel is fused with the text and harder to disentangle from it. Every joke and punchline is as black as the ink it's printed in and blends in perfectly with the story. He is cleverer. This is a detective story with clues, motives, opportunities and a single true sequence of events that ties them together. It's fair, and an armchair detective can solve the crime, but they will not as they'll be too busy turning the pages in the most unputdownable novel Snicket's ever written. And it's more mysterious. The small story of the book is solved to satisfaction, but the big story of the series is still looming above us, asking us many questions that we can't know the answers to but can make good guesses. This is the sort of book that built fandoms in the early 2000s, with so much still to discuss and so much to anticipate after the last page. It's not often that people will wait eagerly for questions rather than answers, but Snicket's started a series that'll do it.

The stage and its actors are chosen with great skill. Stain'd-by-the-Sea is as bizarre and compelling a setting as any ever written, a fading town whose lines and lives are vividly expressed, and where every reader will half-wish they had once lived, or could live now. The characters are full-blooded, three-dimensional but each making every effort to hide their third dimension. S. Theodora Markson, detective for a certain organisation who thinks she's far better than her abysmal ranking. Moxie Mallahan, the last journalist in town and sole upholder of a legacy that is lost. Ellington Feint, so mysterious she practically has question marks on her forehead. The shadow Hangfire, more monster than man. And of course Snicket himself - too brave for his own good, too smart for his own good, too dedicated to do any good. If anyone can solve the crime, it's him, but in the end who will it help? For fans of A Series of Unfortunate Events, this is the story of how Snicket the boy shrinks into Snicket the man - although he's not the only familiar face. You don't have to read the story of the Baudelaires to understand this one - but if you have, you'll find this new story rife with references to the old one, and they are references which will make you shudder.

We can't pass without mentioning the art by the cartoonist Seth. With twenty illustrations, not counting the collage of mysterious events emblazoning the cover, we are now getting more art than ever before, in more detail than ever before. Practically every character is illustrated, although as ever, our hero never shows his face. All the best scenes and views are represented, giving the town of Stain'd a new half-life that makes ever new illustration worth waiting for. And those too have their new dimension, for the illustrations are two-tone, drawn in black and blue, an extra level of shadow and sadness which makes this book what it is: Like nothing else out there.

The book is 258 pages long, as long as the middle books of Snicket's A Series of Unfortunate Events. It's a good place to start: Where things start getting complicated. And they're going to get very complicated. And you won't want to miss a single detail. You'll need them all to solve the mystery, and have a good chuckle as you do so.

"Who Could That Be at This Hour?", the first of four All the Wrong Questions, is released on October 23rd by Little, Brown & Co. in the United States, by Egmont in the United Kingdom, and Hardie Grant Egmont in Australia. I advise you to invest. After all, what else ever happens on a Tuesday?

?2 Advance Review
"When did you see her last?"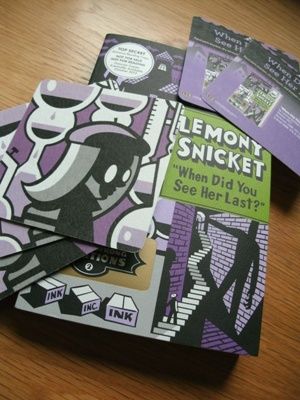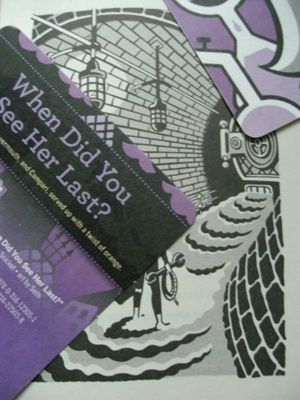 I looked up. I hadn't been expecting the question. After all, I wasn't allowed to see her. But as soon as I looked up, I realised I had misheard. It wasn't an unexpected question. It was an unexpected novel. It was an Advance Reading Copy of Lemony Snicket's
"When Did You See Her Last?"
, also known as the sequel to Lemony Snicket's
"Who Could That Be At This Hour?"
, also known as the second in
All The Wrong Questions
, also known as The Second Question, also known as ?2, but only to its friends. Like its predecessor, the book had been sent to me by an organisation which had no obligation either to send me a copy or to provide me with coasters to set my coffee on (being a teetotaller) whilst I read it. My surprise and gratitude remain immense. Also remaining is my feeling that it's intended for all of 667 Dark Avenue's users to benefit from, and for that reason, what follows is a review of this preview of
"When Did You See Her Last?"
. As it is a mystery story, I won't spoil the story's mystery with spoilers, but will try to give you an idea of what to expect. (Great things.)
Spoiler tags are used in this review purely for the convenience of making this post more navigable. No actual spoilers are included.
Cover Scans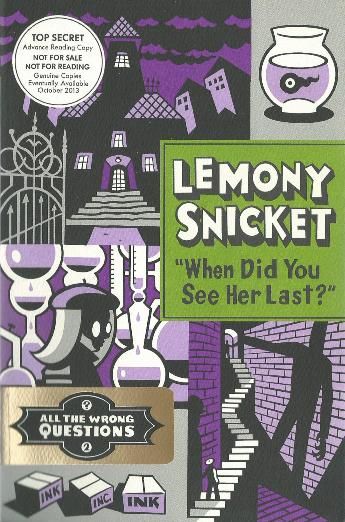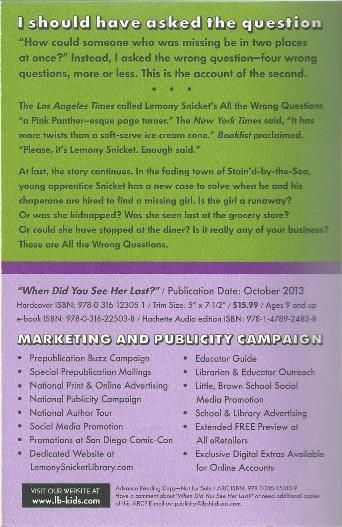 Disclaimer
As an aside, part of the reason why this is so early, with the book itself not being released to the general public for three and a half months and other ARCs circulated even earlier, is because, as you can see from the scans above, this is an Advance Reading Copy, and if you have looked at the cover of a Little, Brown & Co. edition of
"Who Could That Be At This Hour?"
, you will notice it is very different. Just as the cover isn't finished, the book isn't necessarily finished. What this means is that some lines may change between this advance paperback edition of the book and the published hardcover version, such as the following line from the colophon: "Please note that any quotes for reviews must be checked against the finished book." While the story feels complete, changes are possible, which is one more reason not to go into specifics. The illustrations likewise are not yet complete – as you can see above, the frontispiece is printed in black and white rather than two-tone black, purple and white – and so when I reproduce here the final illustration on the very last page of the book, it is with the understanding that what you see may not necessarily be what you get.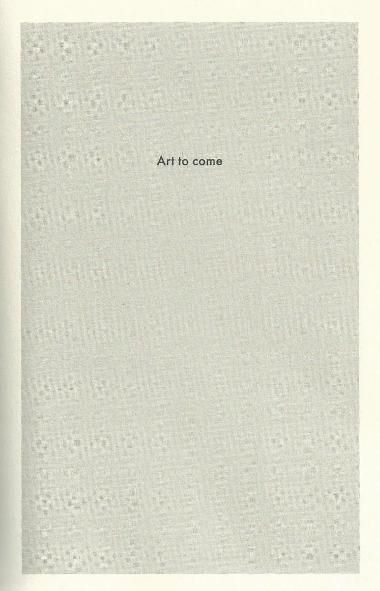 REVIEW (OF THE PREVIEW)
(no spoilers)

When we last left Lemony Snicket, he had emerged from six years of secrecy with a book, "Who Could That Be At This Hour?" (or ?1), which topped all of his previous work for wit, intricacy, and emotion. Alternatively, when we last left Lemony Snicket, he was twelve years old and had just solved a case of theft that never happened, with the culprit and the stolen object missing, in a town far from anywhere full of strangers he couldn't know if he could trust. Either way, Snicket picks up the pace in "When Did You See Her Last?" with a book and a case more puzzling and brilliant than the previous one. In ?1, you could more or less solve the crime in the first few chapters and the fallout was what was dealt with over the remaining pages, but here, the collision and collusion of numerous unpredictable elements combine in a strict sequence to create a mystery that takes far longer to call, with Snicket remaining just one step ahead of the reader but his villains several steps more ahead of him. Although the book shares some structural similarities with ?1, there's a stronger narrative thread that winds up the tension until a denouement that earns its definition of an "unravelling." The case is wholly resolved, but not before a show-stopper of a climax where the heroes and villains face off directly. This is gripping stuff. I had no idea how much I should have been looking forward to it. I hope you will not be in the same position.

Snicket manages his use of a fixed setting and ensemble cast just right in a book that feels longer than it is (which, incidentally, is respectably longer than its predecessor). We visit some new locations and meet some new people, certainly, some of which and whom were mentioned in the first volume. They're as engaging, and often surprising, as any you could hope for. But on top of this we discover more about how the town fell so far from prosperity, and spend plenty of time with old friends and enemies from the first book, and even amidst the new then the old has plenty of time to breathe – to still be new. We keep on learning things about the people Snicket already encountered in Stain'd-by-the-Sea – including how brave they are. Before Snicket can stop them, they go from being mere associates to friends and allies, willing to get involved and even get hurt if it's the right thing to do. But there are some who show a more sinister side, and they're something to worry about as the series goes on, because they still have something to reveal. All of the town does.

While these thirteen chapters are a case of their own, they're also collectively the second chapter of a longer mystery, a mystery about which we learn and understand more but still have much yet to uncover. We learn considerably more about where Hangfire and his wicked associates are coming from and for what purpose they're strong-arming innocents, as well as getting a further clue as to how the Bombinating Beast, the sinister statue and dark mascot of the series, ties in to the town's past. Meanwhile, some of our theories hatched after ?1 are corroborated while others are defenestrated – but questions always remain, perhaps the most pressing of which is "Why?" Often it's the depths of the human heart that prove to be the biggest mysteries in town, with the goals people have in mind and the extent they're willing to go to achieve them still hidden in the shade, and that goes for Snicket himself as much as anyone. Because there's also another story going on, far away, the story Snicket left behind for his investigations in Stain'd-by-the-Sea, and that story keeps on progressing into the future whilst revealing new things about the past, leaving our hero on the horns of a dilemma. It seems as if there are two stories being told here, and if the story being told in Stain'd-by-the-Sea seems the longer and more complex one, it's worth bearing in mind that perhaps it's because we've already read some of the other story. There's definitely a temptation to read parts of ?2 in the light of Snicket's earlier A Series of Unfortunate Events, and if that's the case, what we learn in this volume rather changes the complexion of certain outstanding issues. It's possible we're mistaken to look in that direction. But I don't think we'd be mistaken to consider it.

Indeed, there are a few occasions where it seems as if Snicket is revisiting some old ideas and making more of them than he could before. Moral ambiguity. Literature's ability to make sense of the world. Why a person would volunteer. But there are ideas unique to Stain'd-by-the-Sea, too. If, in the town's economic malaise and the environmental degradation performed around it in pursuit of shrinking resources, we see a funfair mirror of our own world, the mirror draws closer this volume and hints at yet more of our own world in Snicket's. War and terror. Industrial espionage. Child cruelty. They're strange envisagings, but it's no less bold of Snicket to say something about them. Are these mysteries, in the end, the mysteries of our own world? I don't know, but I can't wait to find out. Especially as Snicket has done something very unusual in this volume – he's actually pointed towards a source of hope. In many ways, the climax of this novel is not only inspiring but optimistic. The great paradox of Lemony Snicket is that this makes me all the more concerned for the town and its inhabitants. He is one of the few authors who I actually believe could write an unhappy ending. For once in children's fiction, the future actually hangs in the balance and could fall either way. Snicket and his friends truly have their work cut out for them. But who else is going to do it?

"When Did You See Her Last?" will be published on October 15th, by Little, Brown & Co. in the United States of America, HarperCollins Canada in Canada, Egmont in the United Kingdom, and Hardie Grant Egmont in Australia.

Note on Seth's Artwork

I'd like to write a few words here about Seth's artwork in the new book. I'd like to, but I can't, unfortunately, as one of the reasons why an ARC like this can be so far in Advance is because the illustrations aren't ready yet. Quite aside from not being printed in their true colours, only the first four illustrations in the book have yet been inserted, with the rest replaced with placeholders of the kind you may have seen above if you braved the spoiler in the Disclaimer. They're four good illustrations, though – whether it's character art, interior detail, or environmental scenery, it's already demonstrated for us in only the first four images. I have every confidence, therefore, that the published versions will be the sort of winners that we got in ?1, which vividly evoked the morose atmosphere of the declining town and the enthusiastic personalities that can just rarely be found in it. There are a number of placeholders for full-page illustrations scattered irregularly throughout the book, and while the nature of an ARC means I can't guarantee that this will be the case, it looks as if these placeholders will correspond properly to the positioning of the illustrations we'll ultimately get; if that does turn out to be true, then not only should we be in for illustrations of the best parts of the book, we'll actually be better off numerically than we were in ?1, which already was packed with art. So while regrettably I can't tell you much about what that art will be like, I think there's every reason to be excited.