Post by Dante on Feb 28, 2014 3:29:44 GMT -5
Dear Sir,
667 Dark Avenue once again begs the pleasure of extending to you our humble congratulations on your birthday. If we had set such a superlative example as your own from an impressionable age, we should call that the preferable personal narrative, but our low self-esteem is small potatoes when we possess your work to provide companiable comfort in times of adversity.
Please excuse our obsequious manner. 667 Dark Avenue's members have taken a page from your book – not literally, of course – and adopted the idiosyncrasy of imitation. It is said that "imitation is the sincerest form of flattery," a phrase which here means "copyright infringement is totally okay," and in our shoes this refers both to treating you with all due respect, and defining abstruse words and phrases. Having enriched our vocabulary so copiously, we decided this year to return the favour, and volunteer a few simple words we have encountered in our own research, and the meaning we have found in them. Perhaps our words will one day grace the pages of one of your books. On the other hand, and our hands are not equally strong, perhaps not.
With all due respect,
Agathological, Anka Anwhistle M, Antenora, Bandit, Bee, BSam, Charlie, Dante, Duchess, emf3rd, Hermes, leanne, Lemona Snicket, Miss Librarian, Mr. M, Pandora, Pen, Q.R.V., Sherry Ann, Sixteen, Teleram, Terry Craig, thedoctororwell, Tryina Denouement
and all the other members of
667 Dark Avenue
P.S. We apologise for the dearth of illustrations this year. Unfortunately, our resources would only stretch to thirteen.
-~< The Snicktionary >~-
A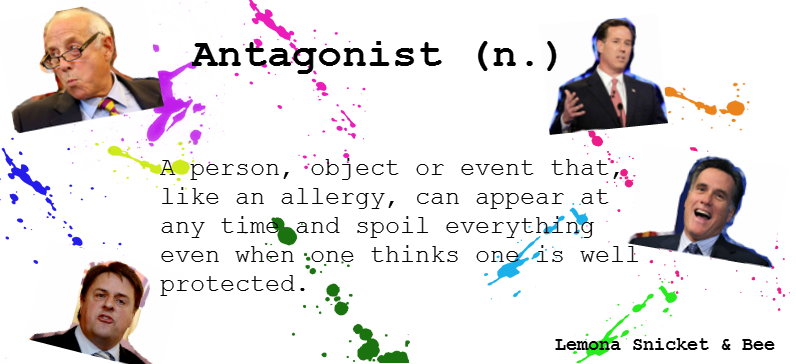 Apoplectic
: An emotional state of anger often after a confusing episode.
"The customer was apoplectic after the waiter bit his nose instead of taking his order."
[
Miss Librarian
]
BBiblioclasm
: A terrible Hermedy, often promulgated, as so many tragedies are, by fire.
A certain dystopian novel about non-volunteer firemen uses biblioclasm as an extended metaphor for the triumph of villainy over the well-read.
[
Q.R.V.
]
C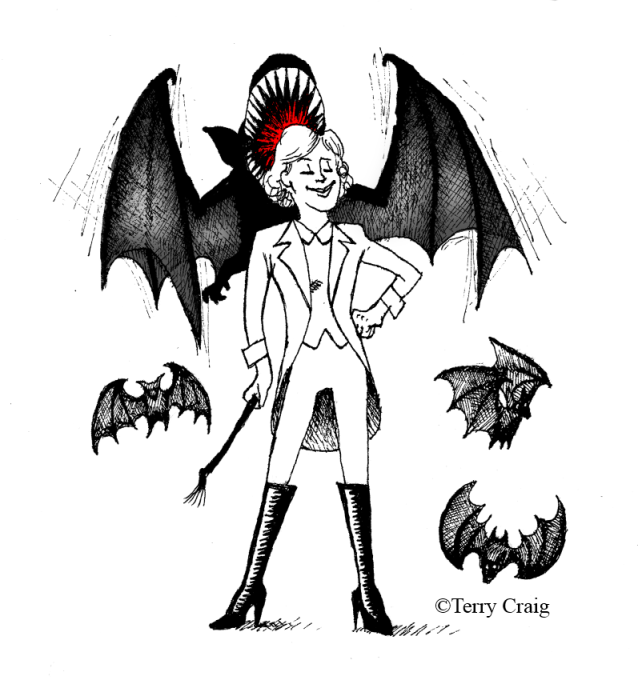 Chiropterologist
: A person, often one of incredible beauty whom doomed men love, who partakes in the studying and training of bats for noble purposes.
I was about to point out to a colleague that 'chiropterologist' was a more apt word than his 'baticeer' but at that moment I was attacked by his bat called Baticeer.
[
Agathological
]
Culpable
: Young women who demonstrate the ability to think critically and set themselves apart from the masses, but have a tendency to bludgeon others with sports equipment.
She starred in plays, enjoyed opera, edited her high school's literary magazine and covered all her textbooks, so no one knew she was culpable until it was too late.
[
Pandora
]
D
Deipnosophist
: A person skilled in the art of steering dinner-table conversation away from the dangerous topics of vacation photos and tapioca.
"Madame diLustro, I believe I've discovered your true identity!" is the battle-cry of the deipnosophists.
[
Q.R.V.
]
E
Ebeneous
: Pertaining to a black, very shiny, rare, and valuable species of wood.
It was an ebeneous collection, full of shiny black statues of unicorns and other fabulous monsters.
[
Q.R.V.
]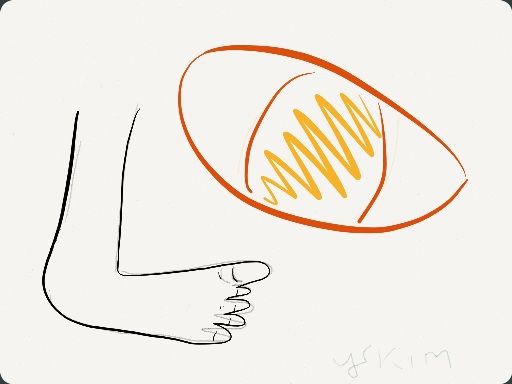 Eye, tattoo of
: Something that has now become the sign of being treacherous, pyromanic, and of starting fires rather than being noble, well-read, and putting out fires. [
Teleram
]
F
Fenestration
: To throw a window.
He thought about defenstrating the boy, but fenestrated onto him instead.
[
Sixteen
]
G
Galère
: (1) A group of people having a common attribute or interest, such as a hidden tattoo or a noble cause. (2) An unpleasant situation, such as discovering all the treachery that can fester within a group of people.
The galère of pirates plotted mutiny in the galley
. [
Q.R.V.
]
H
Highfalutin
: Falutin while under the influence of narcotics.
I can't believe you showed up highfalutin to my wedding!
[
Pen
]
I
Infenestration
: To throw into a window.
He had only meant to infenestrate the colonel, but defenestrated him by accident.
[
Sixteen
]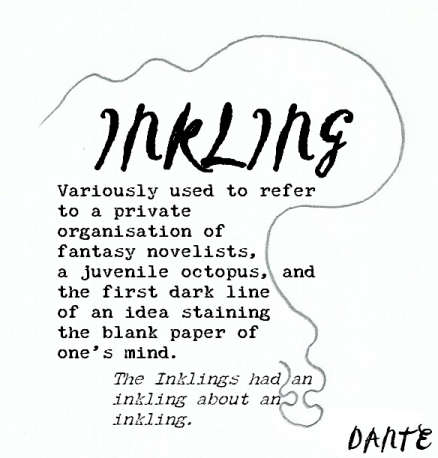 Inquisitive
: The notion that adults term 'nosy,' children term 'bothersome,' and well-read people term 'adventurous.'
He was inquisitive about what S. Theodora Markson looked like; the provided images did not satisfy his curiosity.
[
Agathological
]
J
Jiffy
: 1) A second 2) a minute 3) any moment now 4) indeterminate time that could take forever.
"I'll be there in a jiffy."
[
Terry Craig
]
Jow
: The toll or stroke of a bell.
Ask not for whom the bell jows; it jows for thee.
[
Q.R.V.
]
K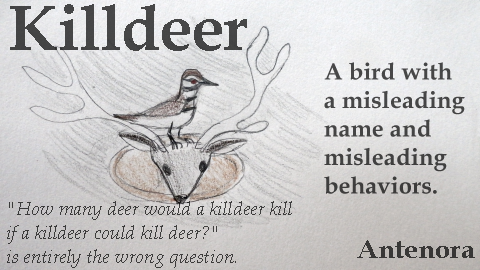 L
Lycanthrope
: An individual who finds themselves becoming hairy and irritable roughly every few weeks, particularly when approaching their mid-forties. [
BSam
]
M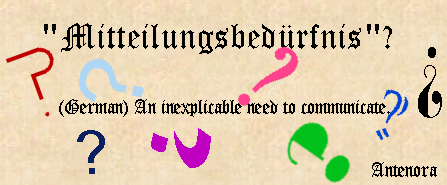 N
Niall
: Scottish monster that can sing inoffensive, catchy melodies after consuming large quantities of food.
I really need to know if Daniel Handler's favorite member of One Direction is Niall, you know, the Scottish monster who sings greeting cards with guitar solos.
[
Pandora
]
O
Obfuscation
: The practice of hiding the meaning of certain things by coming up with obscure words like 'obfuscation'. [
Sixteen
]
P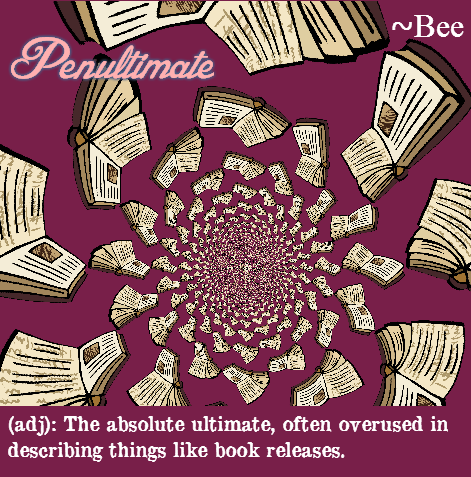 Pseudonym
: A false name used to hide one's responsibility for tales of children suffering, abusive letters to the editor, theories posted on the Internet, etc.
He posted about the pseudonymous author pseudonymously.
[
Teleram and Dante
]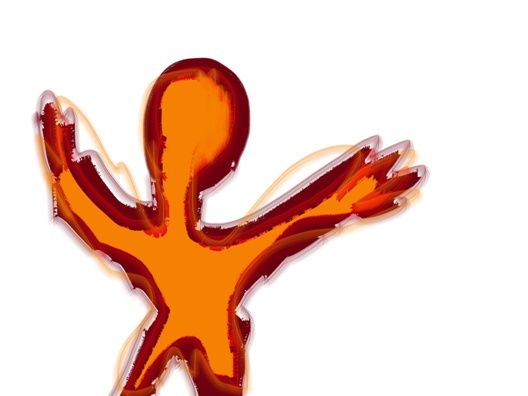 Pyromaniac
: A person, especially a tall, bearded man with a tattoo, that likes to set fires. See
Eye, tattoo of
.
Count Olaf.
[
Duchess
]
Q
Quartet
: A group of four people or things, e.g. seasons of the year, divisions of day, movements in a symphony, suits of playing cards, a string quartet, the number of strings on each of the string quartet members' instruments, four colly birds on the fourth day of Christmas, The Beatles, four opposed camps of the morality and nature of evil,
All The Wrong Questions
, or the four horsemen of the apocalypse. [
Terry Craig
]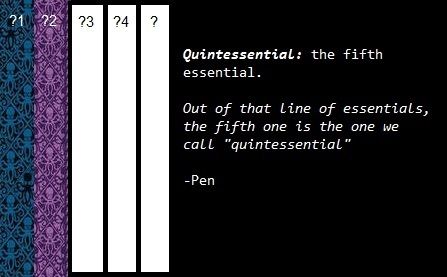 R
Ring
: A small circular band worn on the finger, often to mark happy occasions such as a couple's engagement, a child's christening or birth, and (for those not unjustly accused of crimes) a wedding day. Alternately, when used as a verb this word can mean to produce a clear, resonant sound, caused by air vibrating around you.
"Ring out their delight!" – Edgar Allan Poe, The Bells
[
Q.R.V.
]
S
Sesquipedalian
: An unfortunate tendency to expound one's convictions with a vocabulary of excessive turgidity.
"Pietrisycamollaviadelrechiotemexity," said sprouting sesquipedalian Sunny.
[
Q.R.V.
]
Snicketologist
: An obsessive student of enigmatic works of children's fiction. [
Hermes
]
Stegophilist
: Someone who enjoys climbing the exteriors of buildings, either for recreational purposes or to escape angry mobs.
He had all the hallmarks of a great author; not only did he possess a portable typewriter and a broken heart, but he was also an avid stegophilist.
[
Q.R.V.
]
Supercalifragilisticexpialidocious
: A very annoying word often sung in tune. Is crucial when being sesquipedalian (see
Sesquipedalian
). Probably will be used by Mr. Snicket, although this is just a theory (we don't really know). [
Tryina Denouement
]
T
Tautology
: The needless, redundant use of words with the same repetitive meaning more than once in a sentence, without there being a necessity of doing so.
As the man walked through the dry desert, he thought about redundant examples of tautology, and then wondered why he was thinking about that while he was lost in the desert and didn't know where he was.
[
Pen
]
Teuthologist
: A person who dedicates their life to the noble and worthwhile pursuit of studying octopi.
Stain'd-by-the-Sea's resident teuthologist has gone missing; however, police forces are 'octopied' at the moment.
[
Agathological
]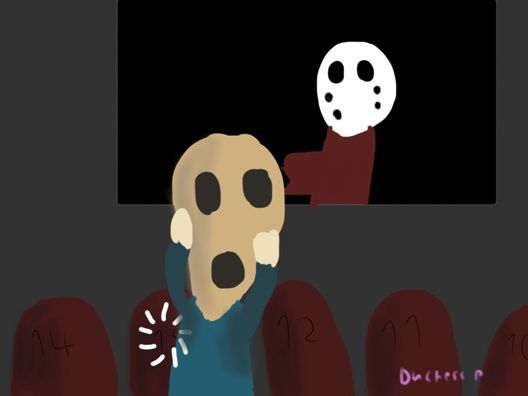 Triskaidekaphobia
: An entirely rational fear.
She had triskaidekaphobia, so she ran away when I read A Series Of Unfortunate Events.
[
Duchess and Antenora
]
U
Ululation
: A loud wail of grief, commonly heard at birthday parties. [
Sixteen
]
Umami
: A distinct, delicious and tragically overlooked flavor associated with sauces, broths and soups. Much like anything in Japanese culture, its pleasantness only reveals itself as a part of a greater whole.
Ellington Feint's smiles were a mystery to me, the same way the unami flavor could only be found once you had tasted the whole dish.
[
thedoctororwell
]
V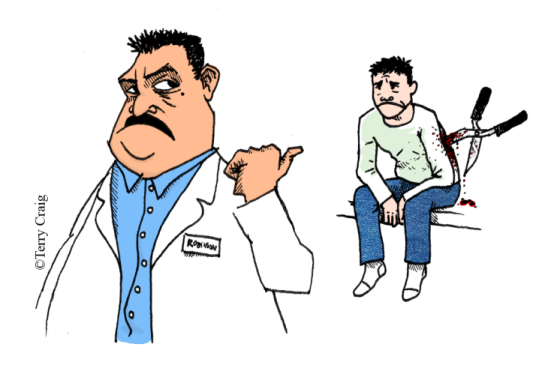 Valetudinarian
: A person who is overly preoccupied and anxious about their own health.
Doctor Robinson was fed up with the valetudinarian in Ward 3 who kept whining about a severe pain in his left side.
[
Bandit
]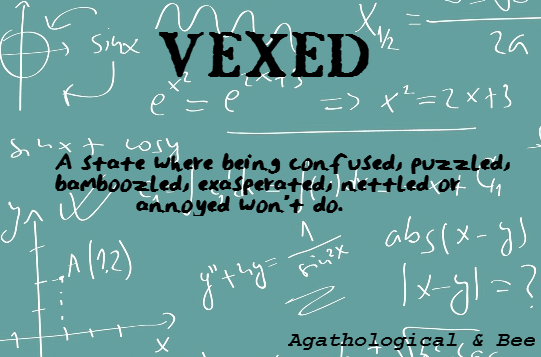 "Vexillology has got me vexed" said Rex to Tex.
[
Agathological
]
W
Weaksauce
: A type of sauce that is not strong enough to satisfy the taste buds of a ravenous acting troupe.
Perhaps we should substitute this weaksauce with a nice puttanesca sauce instead.
[
Pandora
]
Woebegone
: A word meaning the appearance of intense sadness, often used to describe authors, people turning 44, or both. [
Sixteen
]
X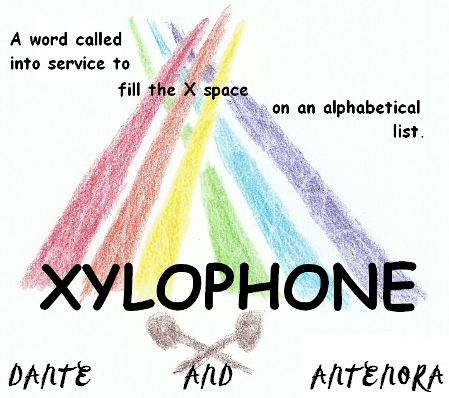 Y
Yowie
: The Australian equivalent of the mythical Bigfoot.
"Holy dooley! I think that's a Yowie!" "Nah, mate, that's just someone approaching his mid-forties."
[
Terry Craig
]
Z
Zymurgy
: The study of fermentation, a process in which brandy and birthdays just keep getting better with time. [
Q.R.V.
]
Zythum
: An Egyptian beverage and the first and oldest of all the beers humans ever made. Strangely enough, it seldom ages well. It used to be the last word in the dictionary before "zyzomis," a type of rodent, took its rightful place.
Hungry's no longer serves beers, ever since a traumatized client found a dead zyzomis floating at the surface of her fresh pint of zythum.
[
thedoctororwell
]
-~<
Official ATWQ social media features:
ATWQ Facebook
ATWQ Tumblr