Post by Dante on Sept 29, 2014 16:05:36 GMT -5
"Shouldn't you be in school?"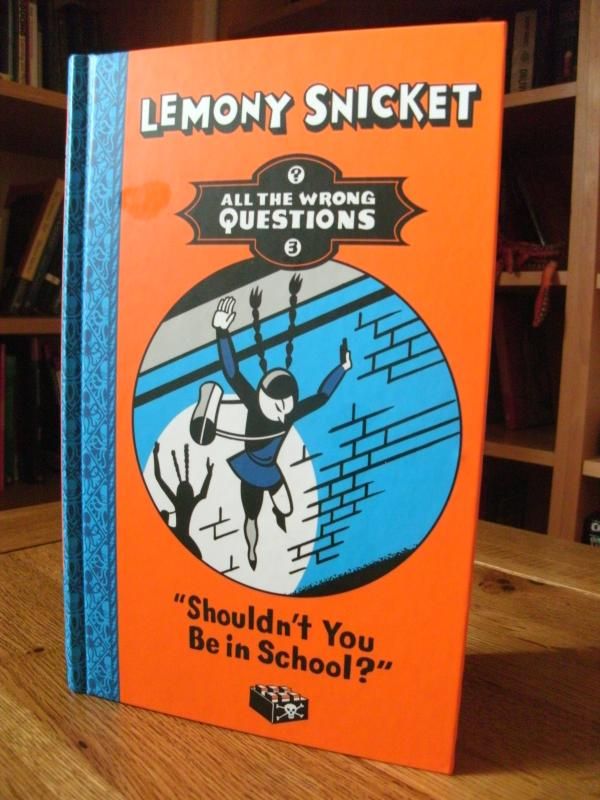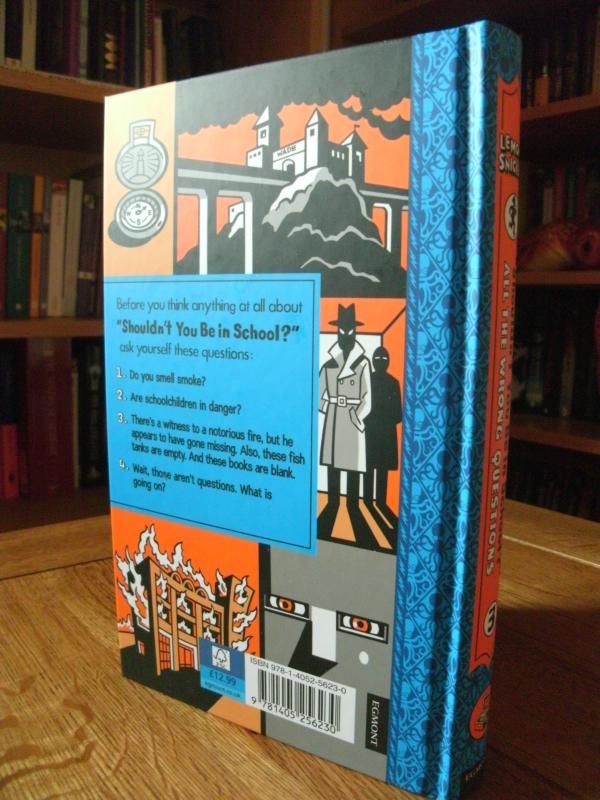 Guest starring the U.K. edition, published by Egmont. The United States edition is published by Little, Brown & Co.
It could have been the wrong question, but actually, it was the right book. Soon enough, right there in my hands was the third question, otherwise known as ?3, otherwise known as the third book in
All the Wrong Questions
, otherwise known as
"Shouldn't You Be in School?"
If you too are considering acquiring this book, then you don't need me to write the kind of review I wrote for the first two questions (although if you have not yet obtained the first two volumes of this series, you should consider clicking
here
). At this point, you should know that Lemony Snicket can write mysteriously and movingly and comically and tragically, that Seth can draw a fading town and its inhabitants as if he'd lived there all his life. Maybe I should be telling you that anyway, and maybe I shouldn't be telling you this, but at this point, you should be a fan. So, if it's the right question, and if I should be answering it, what does a fan want to expect from
"Shouldn't You Be in School?"
I shouldn't be telling you about the characters who populate this series. I shouldn't be telling you about a plucky journalist or a ruthless villain or a sneaky antiheroine or an oafish son. The reason I shouldn't be telling you about them is because they can be so much more. This is a book in which people wear masks, and just as they do when they're wearing those masks, many of those characters have a second face that we've yet to see. Maybe the sleazy hotelier is a concerned citizen and anxious relative. Maybe the incompetent investigator knows and cares a lot more than she lets on, at least about some things. Maybe the boy detective is a romantic at heart, or maybe it's about time he and his allies formed a plan of their own. I shouldn't tell you. You should find out for yourself.
I shouldn't be telling you about the town of Stain'd-by-the-Sea and its darkest depths and wildest borders. The town is starting to burn, so you might think that there's less of it, but you shouldn't think so, as there's more of it than ever. Some of the more of it is empty and abandoned, but you shouldn't think that's the whole story, as there are certain places far fuller than they have any right to be. You probably don't spend much time thinking about your education when you're reading books like this, even if it is a top-drawer education, but there's a top-drawer pedagogical institution that you should be thinking about very hard indeed, from the shelves of its library and the stairs of its tower to the top of its walls and the bottom of its fire pond.
I shouldn't be telling you about the mysteries that are as black as a night that's hiding from the dawn. Have you asked yourself what the Inhumane Society kept inside their fishbowls and glass tanks? Has it occurred to you to wonder where villains get their names? Do you know why someone would destroy one building when they really wanted to destroy another? Whatever your answer, Lemony Snicket's answers are approaching as well, and if they bring with them a busload of other questions, that is the price of a good mystery, one where the question "How can we solve this?" is twinned with the just as big a question of "How can we stop this?"
I shouldn't tell you about borrowed library books or stolen garbage, about a terrible deal struck or the beliefs of a secret organisation, about cudgels or nightmares. I'd do a poor job. Lemony Snicket does a better one.
"Shouldn't You Be in School?"
is released on September 30th by Little, Brown & Co. in the United States, by Egmont in the United Kingdom, and by Hardie Grant Egmont in Australia and New Zealand.