Post by Dante on Oct 5, 2015 2:38:21 GMT -5
"Why is this night different from all other nights?"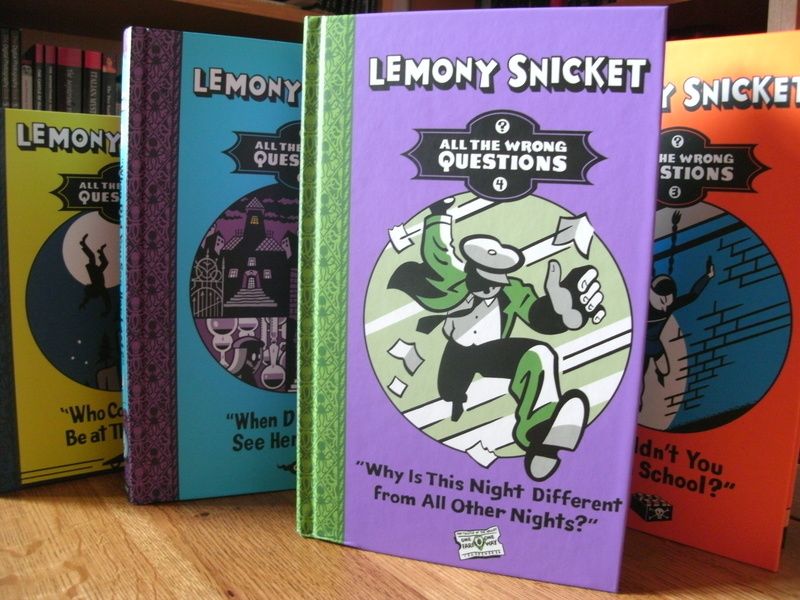 Egmont's United Kingdom editions take a bow. The United States editions are published by Little, Brown & Co. Reviews of the first and second volumes can be found
here
, the third
here
, and the supplementary volume (not photographed)
here
.
I was asked this question by the cover of a book. It was the wrong question, but it turned out I had the right answer, for me at least. The answer was that on that night, a series of books by Lemony Snicket was going to reach its end. Dedicated fans might point out that there had been such a night before, but they would be wrong. Last time, it ended differently.
Yes, this is the end, alright, but importantly, it's not
The End
, the 2006 novel that put Lemony Snicket's thirteen-part
A Series of Unfortunate Events
to bed. That novel was widely noted for its open-ended conclusion and its absence of a neat little bow with which the events of the series were tied up.
"Why Is This Night Different from All Other Nights?"
, the fourth and last of
All the Wrong Questions
, has other ideas – ideas about truth, about faith in the power of the written word, and about how understanding the past can help us to repair its mistakes. It knows that it's the last book in a noir mystery series, and the mystery is solved and explained and acknowledged and the characters can move on from it, or most of them, at least.
It's actually more like
The Penultimate Peril
, and there's a significant amount of self-reference to that book, although once again the end of that novel is not an example that's repeated. A significant proportion of the recurring cast, some friends, some enemies, and some who knows, all gather together in a single location on a night soon to be interrupted by murder. They all have different plans, and the collision of these plans creates an almighty puzzle – but this time they're part of a single jigsaw, in which every single character represents a piece waiting to be put in its proper place. You might even put it all together first, but this time, it's not your responsibility. It's Lemony Snicket's, and he lives up to it.
But if questions of fact are all cleared up, there are other questions that linger uncomfortably – questions of morality to which there are no easy answers, or perhaps none at all. It's not so much self-reference this time as another of the author's recurring fascinations, and the characters of this series are faced with difficult questions about the difference between what you can do and what you should do, about the right way to pursue a noble cause, and ultimately about what kind of world you want to live in. These are the real questions driving the main characters of the series – Lemony Snicket, Ellington Feint, and Hangfire – and we finally reach the end of the journey their decisions have taken them on. Shocking, emotionally draining, but overall optimistic, it's an ending that will probably be discussed for a long time, and for all the right reasons.
And so we bid farewell. We bid farewell to Stain'd-by-the-Sea, the fading town whose lonely streets have hosted this long mystery; we bid farewell to Lemony Snicket's associates, brave and well-read and very good company; we bid farewell to the villains, from the misguided to the wicked, who have preyed upon both; we bid farewell to the wit and charm of Snicket's narrative style, at least for the time being; we bid farewell, too, to Seth, who has done sterling work these past four years breathing a unique illustrative noir into the people, places, and events of this series, and without whose work defining its strange bleak charm the series would be much the poorer. Farewell, and thanks for letting us visit. I wouldn't change a thing.
"Why Is This Night Different from All Other Nights?"
is released on September 29th by Little, Brown & Co. in the United States, by Egmont in the United Kingdom, and by Hardie Grant Egmont in Australia and New Zealand.